Trine student receives one of 11 AIAA national undergraduate scholarships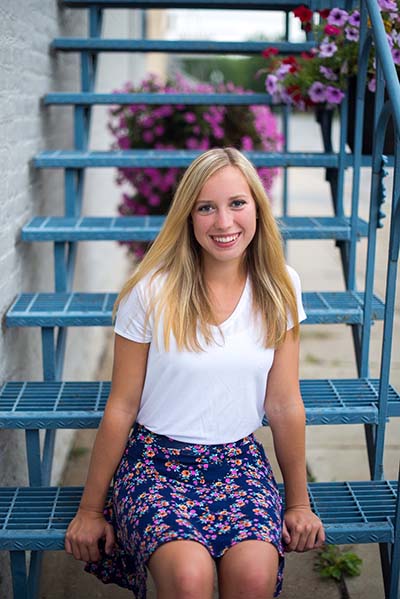 Kyra Warren, a Trine University student majoring in mechanical engineering, is the 2020 winner of the Leatrice Gregory Pendray Scholarship awarded by the American institute of Aeronautics & Astronautics (AIAA).
The $1,250 scholarship is one of only 11 national scholarships awarded to undergraduates by the AIAA. The Pendray Scholarship specifically supports female college students who are AIAA members.
"Kyra is one of those unique students who excels academically, athletically and as a student leader," said James Canino, Ph.D., advisor for Trine's AIAA chapter. "Her work with Trine University's AIAA Student Branch has helped increase the organization's membership and on-campus activities. She is an outstanding selection for this award."
Warren, a resident of Kendallville, Indiana, serves as secretary of Trine's AIAA Student Branch and its chapter of the American Society of Mechanical Engineers. She also competes on the women's triathlon team.
For the past two summers, she has interned at L3Harris Technologies, gaining experience in making satellites and learning the structural analysis side of mechanical engineering.
"Kyra is representative of the many Trine University students and alumni who are active in the aerospace community," said Canino. "Trine students receive prestigious scholarships, work at top aerospace companies and complete graduate programs. We are proud of Kyra and the many other Trine students and alumni who are doing great work in the aerospace field."
Each year, AIAA distributes more than $70,000 in scholarships and graduate awards to undergraduate and graduate students studying aerospace engineering at accredited colleges and universities throughout the United States. In 2020, AIAA scholarship and graduate award winners came from all corners of the aerospace industry and are studying a variety of topics from digital avionics to hypersonics.
Last Updated: 08/26/2020