Trine names Barry dean of Allen School of Engineering and Computing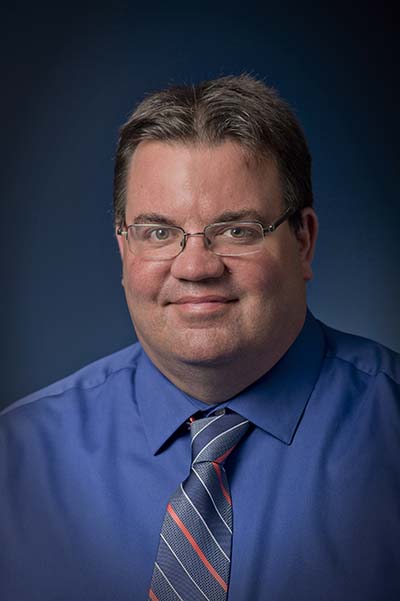 Trine University has named distinguished faculty member and chair William Barry, Ph.D., PE, dean of the Allen School of Engineering and Computing.
Barry had served as a professor and chair of the Reiners Department of Civil and Environmental Engineering at Trine since 2019. A member of Trine's civil engineering faculty since 2008, he has chaired the department eight of the past 10 years.
"I feel excited to be given the opportunity to serve the Allen School of Engineering and Computing in such an important role, and honored to have been trusted with the dean's responsibilities of both advocating for and leading the school," Barry said.
"As dean, I look forward to working with ASEC department chairs, faculty and administrative staff to continue to improve the value of a Trine education," he said. "This includes working to provide valuable educational experiences for our students that prepare them to succeed, lead and serve in their chosen professions, ensuring that our classroom, labs and other facilities are in line with what students will encounter in the workplace, and looking to strategically develop and offer new educational programs that prepare students to fulfill both current and emerging workforce needs."
"This is a time of very positive change in the Allen School, as we are looking forward to the addition next year of the new Steel Dynamics Inc. Center of Engineering and Computing," said John Shannon, Ph.D., vice president for academic affairs. "Dr. Barry brings a level-headed stability during this time of transition, in addition to experience as an academic leader and a deep understanding of the strengths and weaknesses of the Allen School. He also is open and respectful with faculty, and laser-focused on student needs."
A native of western Pennsylvania, Barry earned his Bachelor of Science in civil engineering from Carnegie Mellon University in 1992, with a minor in economics. A year later, he received his Master of Science in structural engineering from Stanford University, after which he began his doctoral studies back at Carnegie Mellon.
After completing his qualifying exam in 1994, he spent almost a year as a graduate intern at Oak Ridge National Laboratory in Tennessee, where he worked in the high-performance computing division on computational mechanics algorithms for massively parallel computing platforms. In 1995 he was awarded a Computational Science Graduate Fellowship by the U.S. Department of Energy, which enabled him to return to Carnegie Mellon to continue his studies in the areas of engineering, mathematics and computer science.
He received his Ph.D. in 1998 and promptly moved to Thailand, where in 1999 he started a six-year stint as assistant professor in the structural engineering program of the School of Civil Engineering at the Asian Institute of Technology. From 1998 to 2006, he published numerous articles in peer-reviewed journals and conference proceedings, and served two years as structural engineering program coordinator. He also served as primary advisor to more than 25 structural engineering master's degree students.
In 2006, Barry returned to the U.S. with his wife Yanawan and his growing family, with a two-year appointment as visiting professor at Norwich University.
Joining Trine's Reiners Department of Civil and Environmental Engineering as an assistant professor, Barry was promoted to associate professor in 2009. That same year, he won the first of two McKetta teaching awards and was awarded the Stemples endowed professorship in engineering.
He currently resides in Angola with his wife and four children.
Last Updated: 08/11/2021