New agreement gives Blue Jacket graduates path to college degree through Trine University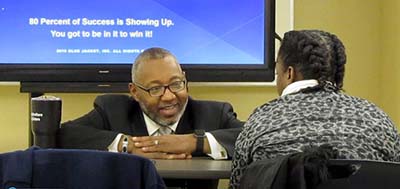 FORT WAYNE — Fort Wayne-based Blue Jacket helps those facing barriers to employment find work through their two-week Career Academy, focusing on the soft skills and important elements of the process that are necessary to not only get a job, but maintain a career.
Through a new agreement, the organization will provide clients and employees a chance to begin their path toward a Trine University degree, giving them even greater opportunities in the job market.
"For 15 years, Blue Jacket has been committed to helping those who have difficulties to obtain and maintain meaningful employment, said Tony Hudson, Blue Jacket's Executive Director and founder. "While the philosophy of our training remains the same, we continuously work toward ways to improve how we go about offering pathways to affordable higher education, and this is an exciting addition to our services."
Through this new agreement, Trine will evaluate courses taken by graduates of Blue Jacket's program and provide a certificate of completion. That certificate entitles students to up to 90 credit hours toward a bachelor's degree program through TrineOnline. This means fewer classes and less cost needed to complete a degree.
Trine University graduates also receive lifetime access to services from the university's Career Center. The university boasts a more than 99 percent employment rate for its graduates.
"For more than 135 years, a Trine University degree has helped many hard-working students achieve their dream of a better life, from World War II soldiers who attended on the G.I. Bill to scores of international and first-generation students," said Earl D. Brooks II, Ph.D., Trine University president. "We are pleased to partner with Blue Jacket in providing this avenue for its clients and employees to achieve a college education, and all the opportunities it affords."
In addition to course credit, Trine will provide Blue Jacket employees and clients dedicated support in obtaining access to available educational grants and scholarships, reducing some tuition expenses altogether. Blue Jacket also will receive added support to ensure clients who take coursework at Trine are utilizing all available academic and financial aid services, including 24/7 tutoring, which is available to all TrineOnline students.
Students can apply free to Trine, and can choose from more than 45 courses using open education resources, eliminating textbook and materials costs.
Blue Jacket's mission is to provide training and opportunities to anyone with a barrier who is striving to earn gainful employment. The organization provides graduates with employment through Blue Jacket staffing, along with in-house transitional job opportunities through its cleaning services, clothing store, Fantasy of Lights events and more.
Blue Jacket envisions that anyone with a barrier to employment will be restored with hope and provided capacity to obtain and retain employment because of the organization's vast network and resources of support.
For more information on educational partnership opportunities with Trine University, visit trine.edu/online/partnerships.
Photo: Bernie Lane, Career Academy facilitator for Blue Jacket Inc., speaks to a student in the organization's Career Academy, which provides skills that help those with barriers to employment find work. A new partnership with Trine University will assist Blue Jacket employees and clients in obtaining a degree through Trine.
Last Updated: 10/12/2021