Trine honors lieutenant governor as Woman of Distinction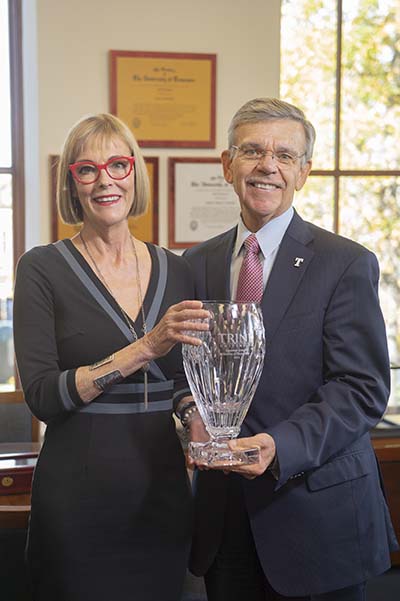 Trine University honored Indiana Lt. Gov. Suzanne Crouch with its annual Woman of Distinction Award during the university's annual Touchstone and Homecoming Celebration Dinner on Friday, Oct. 1.
Earl D. Brooks II, Ph.D., Trine University president, announced the award following a video presentation featuring images of Crouch throughout her lifetime.
"The lieutenant governor has been an incredible positive influence and has impacted the lives of many – not only in the great state of Indiana and our community, but for our students, alumni, faculty and staff here at Trine University," Brooks said. "Thank you for being a positive role model for our students – and for all of us. Thank you for helping to advance our mission here at Trine and to help spread the good news of what this institution stands for and represents to your constituents across Indiana."
Born and raised in Evansville, Indiana, Crouch graduated from Mater Dei High School and received her Bachelor of Science degree from Purdue University, majoring in political science. She, and her husband, Larry Downs, still reside in Evansville and have a grown daughter, Courtney.
Crouch has a distinguished history in Indiana government, having served as a Vanderburgh County Commissioner, a member of the Indiana House of Representatives and state auditor before being elected lieutenant governor in 2016.
Throughout her years of public service, she has been focused and committed to programs and services for people with disabilities. She was honored to receive the 2012 Public Policy Award from the Arc of Indiana for her work with people with disabilities and was named Legislator of the Year in 2011 by the Indiana Association of Rehabilitation Facilities.
In addition, she was recognized in July with the Good Samaritan Project Award along with Governor Eric Holcomb and the Indiana Black Legislative Caucus, Senators Lonnie Randolph and Ron Alting, and House Representative Sheila Klinker. This award recognizes those who honor and support frontline workers.
In 2019, she served as speaker for Trine University's Commencement ceremony. Following her address, the university awarded her the honorary Doctor of Humane Letters degree in recognition of her public service to the state of Indiana.
Crouch was unable to attend the Touchstone Dinner due to the State Senate being in session, but offered her thanks for the award in a previously recorded video.
"You probably know I find myself making a trip to northeast Indiana several times a year, and I always love visiting your expanding campus," Crouch said. "You make it so easy to be a champion for all the work being done by the university, the staff, students and alumni. You are a staple of northeast Indiana and Hoosiers everywhere."
The Woman of Distinction Award was first given in 2006 to honor Marjorie Bowstrom, a Tri-State University trustee. The award recognizes the powerful contributions of women in the areas of philanthropy, business and education, and is presented annually to a woman judged by the university to mirror the attributes represented by Bowstrom. It signifies the university's high regard for the lofty achievements of today's female leaders.
Photo: Indiana Lt. Gov. Suzanne Crouch receives Trine University's 2021 Woman of Distinction award from university President Earl D. Brooks II, Ph.D., during a visit to the Trine campus on Wednesday, Oct. 20. The university announced the award during its annual Touchstone and Homecoming Celebration Dinner on Oct. 1, but Crouch was unable to attend. The Woman of Distinction Award was first given in 2006 to honor Marjorie Bowstrom, a Tri-State University trustee. The award recognizes the powerful contributions of women in the areas of philanthropy, business and education, and is presented annually to a woman judged by the university to mirror the attributes represented by Bowstrom. (Photo by Dean Orewiler)
Last Updated: 10/21/2021