Miracle on Ice team member speaks to Trine hockey players, coaches
It was the defining moment of hockey, if not of all sports, in the United States: the 4-3 victory over the Soviet Union in the 1980 Olympics known as the "Miracle on Ice."
"When that event happened, people refer to it as we beat the Russians," said Dave Christian, a member of that U.S. Olympic team. "It wasn't the US hockey team, it wasn't they, it was we."
Part of a group from Cardinal Glass that visited Trine University on March 17, Christian shared his memories and insights from his experiences on that team as well as in the National Hockey League, and his work today as co-director of leadership development at Cardinal.
Speaking to Trine hockey coaches and players in the lobby of the Thunder Ice Arena, Christian said that as someone who "grew up in a small town in Minnesota, Warroad, six miles from the Canadian border," he was grateful for his experiences at the University of North Dakota, the Olympics, the NHL and at Cardinal.
He discussed the leadership principles of U.S. Olympic coach Herb Brooks, whom he said a friend described as "having the ability to know how to pack a lunch."
"You can't have all chips and you can't have all candy and you can't just have bread," Christian said. "You need all of the components to have a good, decent lunch. I think that was his approach in putting a team together. His idea and thought was that you don't necessarily need the best players, but you need the right players."
One example, he said, was Mike Eruzione, who served as team captain.
"He wasn't the best player on that team, but he was the best person to bring that group together, and therefore he was the best captain for that team," Christian said.
Brooks' leadership, Christian said, was about preparation as opposed to winning, resulting in an extensive exhibition season prior to the Olympics and grueling workouts. When players were cut from the team in the summer of 1979, Brooks warned those remaining to, "take a look at those guys. They're getting off easy."
Christian said Brooks defined the goal and vision for the team from the beginning by saying, "We may not be the best team when we get to Lake Placid in eight months, but we will be the best conditioned team when we get to Lake Placid."
Another principle he learned from Brooks was that "just because somebody may not be a good fit for the current position that they're in doesn't mean they can't be a valuable member of your team."
In fact, Christian made the U.S. team as a forward, but Brooks switched him to defense two months before the Olympics after Christian had expressed concerns about struggling to score.
"He responded immediately, 'David, I don't care if you ever score another goal for this team. I don't need you to score goals. I just need you to play,' Christian said. "It was certainly a relief and took all the pressure off having to produce."
Christian described his NHL career as a "roller-coaster ride." He joined the Winnipeg Jets and scored seven seconds into his first game, setting an NHL record for fastest goal by a player in his first game.
However, the Jets only won eight games that year. Christian said he "went from the penthouse to the outhouse."
Asked during a question-and-answer session what hockey players can do in the off-season to perform their best on the ice, Christian said conditioning has changed a lot since his playing days. He told those present it's important to maintain their passion for the game.
"There's nothing better than playing hockey," he said. "The locker room, on the ice, on the bench with your teammates, nothing like that.
"And I think I've learned that you don't necessarily find a new passion, you just kind of move on from that passion. If you'd have asked me 10 years ago if I'd be co-director of leadership development I would have said you're crazy. I didn't see myself in this role. But I enjoy people, and it's rewarding as can be to see people succeed and move on in their leadership."
Christian also was asked if the US team realized the magnitude of their victory at the time. He noted that the US had been blown out 10-3 by the USSR two weeks prior, and he said the mindset going in was "let's not embarrass ourselves. Let's make sure we're ready. Leave it all out on the ice."
"For the players on the team it was an opportunity to play against, at that time, the best team in the world," he said. "We continue to be amazed of the magnitude of that particular moment."
After his presentation, Christian skated and shot on the Thunder Ice Arena rink with Trine hockey players.
In addition to Christian, Mike Connell, plant manager for Cardinal IG in Fremont, Indiana, Hillary Parsons, training coordinator at Cardinal IG in Fremont, Sharon Beaman, co-director of leadership development for Cardinal Glass, and Alicia Hoover, co-director of leadership development for Cardinal Glass, met with Trine University President Earl D. Brooks II, Ph.D., and academic leadership at the University.
The day's activities were part of a recently announced partnership that will provide professional development and educational opportunities at Trine University for employees at Cardinal IG.
Top photo: Dave Christian, a member of the 1980 US Olympic hockey team, prepares to speak to Trine University hockey coaches and players on March 17. Christian jokingly referred to his skates as his "security blanket." (Photos by Dean Orewiler)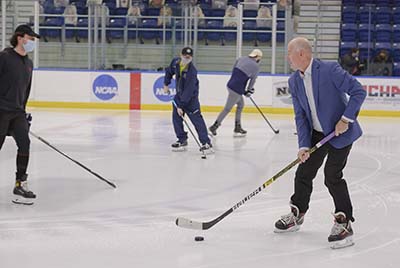 Dave Christian, a member of the 1980 US Olympic hockey team, skates on the Thunder Ice Arena rink with Trine University hockey players and coaches after speaking on March 17.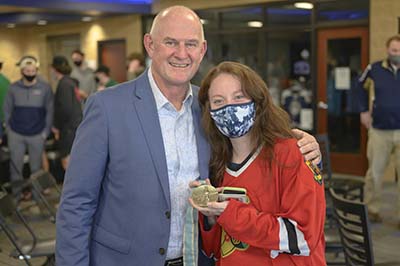 Dave Christian, a member of the 1980 US Olympic hockey team, lets Trine University women's hockey player Natasha Strbiak hold his gold medal from the 1980 games.
Last Updated: 03/25/2021