Trine team competes in international electric go kart event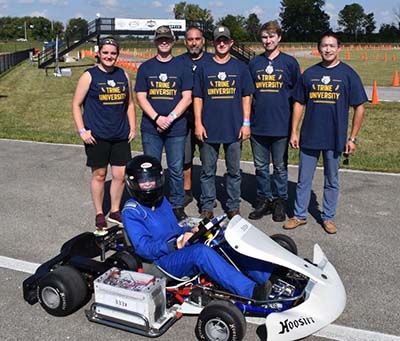 Automakers around the world are racing to design and produce more efficient, cost-effective electric vehicles.
A group of Trine University students recently took part in a similar competition, designing an electric-powered go kart that went up against others from universities nationwide.
Held at Purdue University's race track Sept. 16-17, the annual evGrand Prix judged vehicles on placement, design, community outreach and energy efficiency. The Trine team placed fifth.
"We were able to complete the entire race while using the least amount of voltage in our system," said team member Brian Morris, a mechanical engineering major from Metamora, Michigan. "We were even congratulated by the members of the evGrand Prix committee. They said most first-year teams don't complete the entire race."
The annual event was originally supposed to be held over Memorial Day weekend as part of Indianapolis 500 festivities at the Indianapolis Motor Speedway. However, due to COVID-19 concerns, the date and location were moved.
The schedule change meant that most of the original senior design team that had worked on the project was unable to be part of the competition. Team members Jacob Caldwell of Conover, Ohio, Lee Dougherty of Nappanee, Indiana, Matthew Poublon of Reading, Michigan, and Aaron Smith of Deshler Ohio, all mechanical engineering majors, graduated and were unable to participate.
Mechanical engineering majors Bethany Blumer, from Kendallville, Indiana, and Daria Frame, from Brownsburg, Indiana, were able to return and be part of the team this fall. They joined Trine mechanical engineering majors Josh McCallum and Morris, who are part of this year's team, and Alex Walters to compete at Purdue.
John Liu, Ph.D., assistant professor in the Wade Department of Mechanical and Aerospace Engineering, and Joe Thompson II, laboratory manager and instruction, are advisors for the team.
Last year's team worked on Trine's kart throughout the 2020-21 school year. They began by creating matrices for concepts and designs to determine the best options for the Trine kart. The team then tested the kart to make sure it met all the evGrand Prix requirements.
"They created their own racetrack on multiple occasions in the parking lot in front of Best Hall to see how the kart would handle an actual track," said Morris.
Morris said that besides providing a more accurate test for the kart design, the competition allowed the Trine team to look at other designs and talk with other teams to develop new ideas.
"Next year we are looking to make it into the top three," he said. "We are looking forward to getting our hands on the kart and trying to update it for this year's competition."
The evGrand Prix began in 2009 at Purdue, with the inaugural race taking place in 2010.
Photo: The Trine University evGrand Prix team competed at Purdue University in mid-September. Standing, from left, are Daria Frame, Alex Walters, advisor Joe Thompson II, Brian Morris, Josh McCallum, and advisor John Liu, Ph.D. Bethany Blumer is seated in the kart.
Video: Electric go karts cross the finish line at the evGrand Prix. The white kart is Trine University's.
Last Updated: 10/04/2021