New hammock stands available for Trine student enjoyment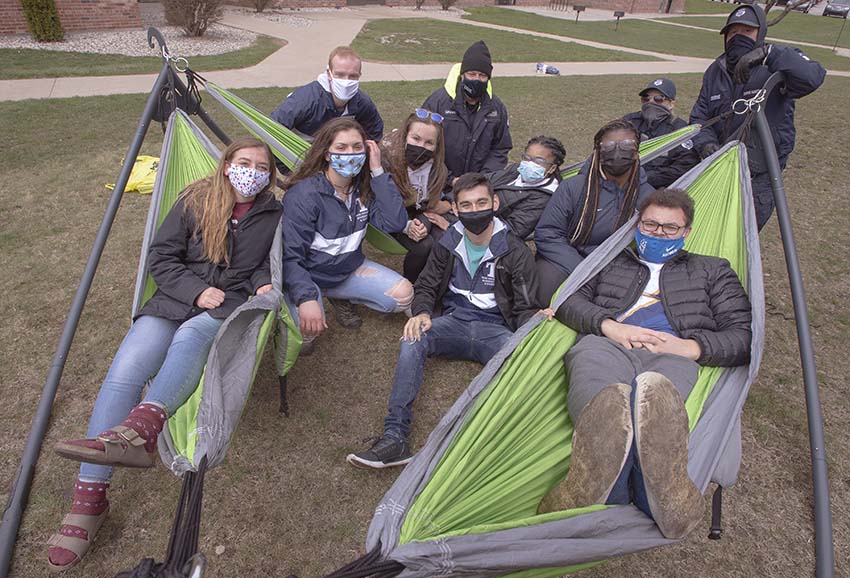 Trine University students now have another option for enjoying the beautiful spring weather.
The university has installed two sets of three-person hammock stands on the main campus near the residential facilities, with plans to add more for the fall.
In October 2019, Kate Gardner, an accounting major at Trine, asked Cisco Ortiz, dean of students, if the university could purchase some hammock stands after realizing the campus doesn't offer many options to hammock between trees.
"I knew of other schools that had hammock stands around their campus," she said. "I thought it would be a great addition to make student life a little better."
She researched the project, but was interrupted when Trine students were sent home in March 2020 due to the COVID-19 pandemic. Several weeks ago, Trine Student Government and Ortiz asked Gardner to get the project going again, and student government representatives later made a formal request to Trine University President Earl D. Brooks II.
Student Services and Campus Safety staff installed the stands last week. Ortiz said they are set up for students to bring their own hammocks, though Student Services does have some available.
The university plans to purchase more stands to have ready for students in other locations by the beginning of the fall semester.
"I'm really excited to see students enjoying the weather outside and spending time with friends," Gardner said. "Having the opportunity to hammock will hopefully provide some extra joy, peace and relaxation for students. I'm very thankful that the university is helping make student life more enjoyable."
Photo: Members of Trine University's Student Government and Campus Safety staff pose with hammock stands that were recently installed on the Trine campus. Kate Gardner, a Trine student who spearheaded the effort, is pictured in the hammock at left. (Photo by Dean Orewiler)
Last Updated: 04/06/2021