Trine alum hopes air purifier will help return to normalcy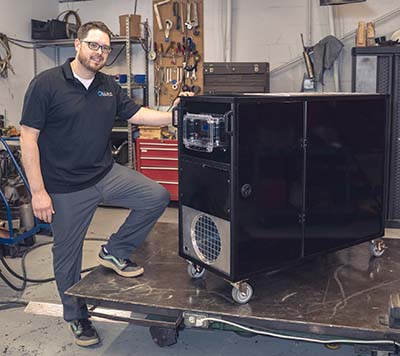 JOHNS CREEK, Ga. — Build a better mousetrap, Ralph Waldo Emerson said, and the world will beat a path to your door.
Trine alumnus Jim Hoffman is hoping to trap something considerably smaller than a mouse. And while it would be nice if the world beat a path to his door, his main goal is to help life get back to normal.
The 2006 graduate is developing an air purifier designed to kill airborne pathogens, particularly SARS-CoV-2, the novel coronavirus that causes COVID-19.
"I've been acting as the project manager and lead designer," he said. "I've designed the system as a whole, incorporating UV-C technology, and managing the process of bringing this from concept to completion."
The purifier, about the size of a flight attendant's push cart in an airplane, uses a fan to draw in air and push it through an S-shaped chamber coated with UV-reflective material. Air is treated with an ultraviolet bulb before it is pushed back out.
"Essentially, it's a complete air handling and sterilization system on wheels," he said.
It is designed to purify the air in a 30-by-30-by-8-foot area, the size of the average elementary school classroom, in less than 15 minutes. Hoffman set 15 minutes as the target since the Centers for Disease Control says an infected person can pass COVID-19 to another person through normal conversation in that amount of time.
The purifier features an on-board UV sensor that lets users know the level of treatment the air is receiving.
"We let people know they are getting the dose they need to be effective," Hoffman said.
Though air purifiers are a new venture for Hoffman, he's not new to removing impurities from substances. With an environmental engineering minor in addition to his chemical engineering major, Hoffman has spent most of his career focused on water quality
He started his career volunteering for the John G. Shedd Aquarium in Chicago, testing water quality in exhibits. He then worked as quality assurance chemist and later operated an industrial wastewater plant for Abbott Labs. He also worked an application engineer, sizing fluid handling equipment for industrial and municipal applications, specializing in wastewater.
He currently works as engineering manager for Roman Fountains in Johns Creek, Georgia. The company designs and provides equipment for water features, from small traditional fountains to the large dancing fountains in Las Vegas to splash pads that children can play in.
"I will take a concept from an architect and design the plumbing, size the equipment, and produce installation drawings that take that concept to a reality," he said.
The idea to branch into air purification came as the company felt the impact of the economic slowdown caused by COVID-19. With demand for water features uncertain, Roman looked for ways to add products or services without a lot of capital investment.
"This meant looking at the services and products we already provide and trying to reapply them in meaningful ways," Hoffman said.
Hoffman, who manages the water treatment technology used to purify water in splash pads, thought the UV-C radiation Roman Fountains uses could be applied to air as well as water. The company reached out to Neotech Aqua Solutions, a company they already had a relationship with, to discuss a partnership on an air purifier that utilizes UV-C technology.
"This has been a steep learning curve, becoming educated on all the different technologies out there and their pros and cons," he said. "Once we identified this as a project we wanted to focus on, we asked the question, 'How can we design this to be the most effective with respect to SARS-CoV-2?' "
Hoffman said the purifier theoretically kills 99.9% of the SARS-CoV-2 virus in the air per pass. A physical filter on the discharge end of the unit boosts that result to 99.99% per pass. Efficacy testing to verify these results is underway.
"Our speed and efficacy of killing coronavirus in a room, in real time, with people present, is unmatched," he said. "We not only clean the room, but we can keep it clean with students and teachers present."
Roman Fountains is also testing aspects such as the speed of air and noise coming out of the machine, as well as making sure it doesn't overheat.
In addition to the room-size purifier, Roman is working on a larger model for warehouse applications and a smaller model for a space like a doctor's exam room. All are designed to inactivate SARS-CoV-2 within 15 minutes.
"We've identified dozens of industries that can use this," he said, "basically any indoor space that multiple people use at one time."
Hoffman said the use of this device extends past SARS-CoV-2.
"It will be able to disrupt the spread of any airborne pathogen susceptible to UV, from the seasonal flu to the next pandemic," he said. "This could be a very useful tool to mitigate risk while a vaccine or other preventative measures are developed."
He's hoping the purifier will help businesses, and life in general, get back to normal.
"If we're able to give that reassurance to customers that a place of business is safe again, we can help them get back on track," he said.
Last Updated: 04/26/2021