Iftar dinner celebrates beginning of Ramadan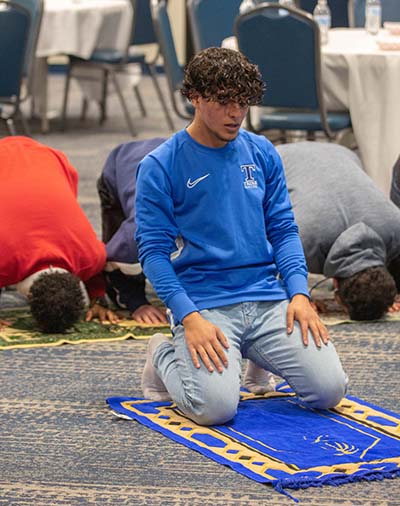 They represented many nations, but one faith.
About 45 people gathered in Club Z inside Trine University's MTI Center on Tuesday, April 13, to celebrate the beginning of Ramadan by joining together for an iftar, a meal to break the fast, offered by the Trine Muslim Association.
Hamza Tariq, a biomedical engineering major from Angola, Indiana, who serves as president of the association, said the event was designed to show Muslim students that the university honors their holiday, and to give them the opportunity to connect with other students of the same faith.
"Kind of just seeing that we can be together and break our fast together," he said. "It allowed us to come together, as some of the students didn't know each other."
Tariq opened the program by talking about the month of Ramadan, the history behind it and its religious significance. He also discussed the importance of fasting and "how it helps us spiritually, mentally and physically, and what we're supposed to do and not supposed to do."
Ramadan, the ninth month of the Islamic calendar, began this year at sunrise on April 13 and will end with sunset on May 12. It is celebrated as the month during which the prophet Muhammad received the first revelations of the Quran.
During the monthlong holiday, Muslims are encouraged to reflect and make a special effort to follow the teachings of Islam. A key aspect is fasting from sunrise to sunset, during which participants take in no food or water to direct their thoughts away from worldly activities.
Tariq said some non-Muslim students also fasted throughout the day "just to get a better grasp of what fasting is."
Students read the Surah Fatihah, the first chapter of the Quran. At sunset, Alhasan and Alhusain Yahya, twin brothers from Melvindale, Michigan, majoring in biology, led the prayer — the Maghrib, the fourth of five required daily prayers — and the call to prayer.
Both Yahya brothers have memorized the entire Quran, Tariq said.
The Muslim students prayed in front of the group to demonstrate how they pray. After the prayer, they broke the fast with three dates and water, a tradition that comes from Muhammad, who was quoted as saying: "When one of you is fasting, he should break his fast with dates; but if he cannot get any, then (he should break his fast) with water, for water is purifying."
After that the group prayed again and sat down for the iftar meal. Tariq said there is no food specified for the iftar, and that with students in the organization representing multiple countries, everyone has different preferences.
"People usually like to have vegetable dishes, fruit, light and healthy stuff, no oily or heavy foods," he said. "It's all very light and healthy because we are supposed be looking toward our health also. It's not a feast; it's just a meal."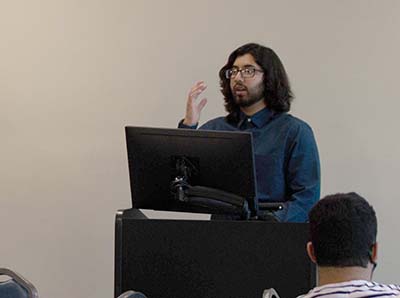 Tariq said he hopes the non-Muslims who attended the event learned something new and developed an understand of what the month is about.
"It's not just a holiday, it's a monthlong holiday," he said. "We wanted to show them what it is and how important it is, so they can embrace us more and be more educated. That's one of the goals in our mission statement: to educate Trine University about our religion and who we are and what we stand for."
The month is particularly challenging for about a half-dozen Muslim students who are on Trine's meal plan, since meal hours don't necessarily align with the times permitted during Ramadan. In addition, Tariq said that though the cafeteria serves good food, "during this month they're used to eating home-cooked foods that have a lot of vegetables and fruit."
In addition to the initial iftar meal, the Trine Muslim Association is providing meals in the dorms for Muslim students. A local mosque in Angola is also holding iftars.
"We make most of the food they eat at home," Tariq said. "They can't go home and break it with the families, so this is a way for them to break their fast and feel at home with the food we brought. It allows them to feel more comfortable here at Trine University."
Tariq said the iftar is the last main event for the Trine Muslim Association this school year. The group is hoping to host more events in the fall, including information events and fundraisers for local causes.
Photo: Top right, Alhusain Yahya, a Trine University biology major from Melvindale, Michigan, leads prayer prior to the iftar dinner held on the Trine campus Tuesday, April 13, to mark the beginning of Ramadan. Bottom right, Hamza Tariq, president of the Trine Muslim Association, speaks at the iftar. (Photos by Kacie Galloway)
Last Updated: 04/16/2021