Olympic memories: Trine alum Schroeder reflects on representing USA at Tokyo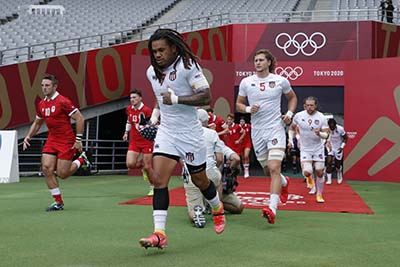 Though the result wasn't what he or USA Men's Rugby 7s hoped for — you don't go to the Olympics without wanting to medal – Joe Schroeder said it was still incredible to represent the United States at Tokyo.
The 2016 Trine graduate contributed to the USA's sixth-place finish, three places better than the Rio Olympics five years prior.
The first Olympian in Trine's 137-year history, Joe was able to meet athletes from around the world, though he said everyone in the Olympic Village was respectful and keeping distance due to COVID-19 concerns.
An event like no other
He said the highest-profile athletes he met were the USA basketball players; he walked next to them at the opening ceremony.
"All the athletes met at the bottom of the USA building and then we walked over to the buses together," Joe said. "It was a big procedure to get us all there, and then we walked through the back of the stadium."
Due to the heat and humidity, Joe said athletes kept their blazers off until they walked through the front of the tunnel. Walking into the Olympic Stadium, even though there were no spectators, was an awesome experience.
"Once you walk out into the lights, you just feel the presence there because you know how many people are watching from around the world," he said. "There are cameras everywhere."
That feeling continued when he stepped out on the field for the team's first match, a 19-14 victory over Kenya on July 26.
"It's just different because the Olympics obviously mean so much more," he said. "To be in that 12 that's running out on the field and to represent your country at the biggest stage possible, there's quite a bit more emotion there."
Though matches were also played with no spectators, Joe said the team had already been prepared by playing several tournaments this year with limited or no fans. The lack of crowd noise made communication on the field easier, but forced the team to pump themselves up mentally before each match.
"We bring it more in the warmup and talk to each other more, especially beforehand as well as out there, and that kind of keeps us pumped and motivated," he said.
Fighting the weather, honoring a brother
The oppressive weather in Japan continued through the Olympics and took a toll on many athletes, which is one reason USA Rugby arrived a week early to train. Members also tried to stay cool by drinking slushies and performing breathing exercises they had been practicing this past year.
"If you were outside, you were sweating," he said. "But it's an even playing ground, as everyone is dealing with it."
Joe was able to get on the board against South Africa, putting the USA up 5-0 in its final pool play match. The moment was especially poignant, as he pointed skyward in memory of his brother Will, who passed away a year and a half ago.
"He was a reason I pushed for this so hard," Joe said. "Once I made it to the US team, he was just pumped for me. He helped drive my truck out West when I moved out there."
Joe also styled his hair in a mullet to honor his brother during the Olympics, which attracted the attention of news outlets and fans.
"He rocked the mullet," Joe said. "It helps me remember him. I can look in the mirror right before a game and remember him, and it helps me get motivated.
"I've got a lot of comments on it in person and on social media. Everyone appreciates it and thinks it's cool how I'm honoring my brother."
Limited activities and a tough loss
Pandemic restrictions severely limited what the team was able to do during its off hours. Members were allowed nowhere except their practice venue during the pre-Olympic camp, and either the Olympic Village or the competition during the Olympics.
"It was strict," Joe said. "We didn't do anything touristy, no exploring. It was just you're at the village or at the venue."
He was able to take part in the Olympic tradition of trading pins with other athletes at the village, but wasn't allowed to see any of the other competitions in person.
"We could watch them in our free time, so that's what we were doing," he said.
In quarterfinal action, the team suffered a particularly hard loss to Great Britain, blowing a 21-0 lead to lose 26-21 and fall out of medal contention.
"We felt like we were winning that game pretty well and we just gave it to them," he said. "We were getting a little loose in the second half and giving possession errors to the competition, and they were taking advantage."
The team finished the Olympics with a win over Canada and then a loss to South Africa in the fifth-place game. He said the team at least took a step in the right direction with its Tokyo finish, but they were still disappointed.
"You train so hard for this, and everything happens so quickly," he said. "People are bummed and are dealing with it in their own separate ways as we go home and get reunited with our families, but we're glad we're moving in the right direction."
After Tokyo
Due to COVID-19 restrictions, Olympians had to leave Tokyo within 48 hours after their competitions were finished, which for rugby was July 28. USA Rugby is giving the team a break until September, allowing them to train remotely, so Joe is spending time with family in Indiana before returning to California.
"I haven't really been home this past year, so I'm looking forward to it," he said.
The team's regular tournament season was postponed until after the Olympics due to the pandemic, so USA Rugby will play in a five-tournament season beginning in mid-September and running through December. Next year will bring the Rugby World Cup 7s tournament in South Africa, and 2023 will feature the Pan-American Games and qualifying for the 2024 Olympics in Paris.
Joe said the team will take the lessons it learned in Tokyo to start preparing for the upcoming tournaments and for Paris. They also will make personnel adjustments, as several members are not returning.
"It's not going to help us if we don't play well the next couple of years and then try to change the year of the Olympics," he said. "It's going to be here before we know it."
Joe hopes to be part of that 2024 team. He also hopes by then that crowds will be able to watch the matches, and that he will be able to go sightseeing and watch other Olympic events in person.
In the meantime, he enjoys the memories of being able to represent the United States at the world's biggest athletic event.
"It was an incredible experience," he said.
Photos: Top, Trine University alumnus Joe Schroeder (5) prepares for a scrum during the USA Men's Rugby 7s match against Canada in the Tokyo Olympics on July 27. The USA defeated Canada 21-14 and eventually placed sixth. Top right, Joe Schroeder takes the field with USA Men's Rugby 7s during the team's match against Canada. (Photos by Mike Lee/KLC Fotos for USA Rugby)
Last Updated: 08/10/2021