Trine student Elkins follows course of family's racing history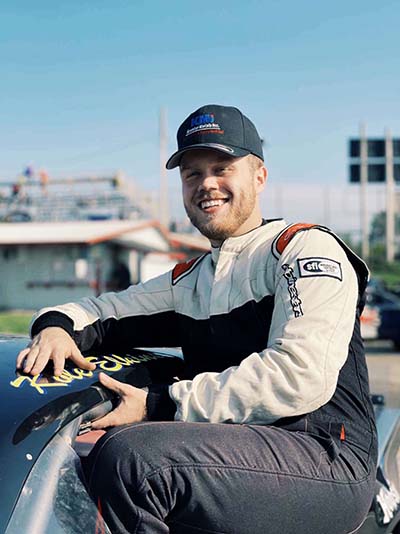 Stock car racing is in Kole Elkins' blood.
His father, Fred, was the first person inducted into the Hall of Fame at Angola MotorSport Speedway, and his uncle John and grandfather Milburn are also members.
The dream of a racing career passed from father to son about five years ago when Fred, who had been racing since the 1960s, stepped back from driving to let Kole behind the wheel.
"In late 2017, he purchased a racecar for an entry-level class (mini-stocks), and that's where it all began," Kole recalled. "I ran in that beginner class for just a year and then went straight into the top class, late models."
This past year, the Trine University mechanical engineering major from Hudson, Indiana, took another leap, forming his own racing team, Elkins Motorsports.
"I decided that I wanted to try and step my game up and do some branding to attract sponsors," he said. "The costs are huge for this sport, and top teams have many contributors that help them out financially on a weekly basis. Starting my own motorsports team is the first step in helping me secure contributors of my own."
Kole raced at Angola MotorSport Speedway this past season, finishing fourth in the Late Model Sportsman points standings and third in the High Banks Triple Play points standings, a series of three longer races throughout the year.
"This year started off not so great," he said. "We did not have very good speed in either of the cars, and it took us a month to get going in the right direction. I switched primary cars about halfway through the year and finished very strong. I had a bunch of consecutive top-5 finishes, with several of those being podium finishes."
He was particularly proud of the finish in the High Banks series.
"These were the biggest races of the year where everyone was on their respective A game, and we were able to produce some great finishes," he said.
Though the racing season mostly takes place during the summer, there is some overlap with his classes at Trine, during finals in the spring and through the first month of the fall semester. During those times, he especially depends on Fred, who works on the car during the week, as well as John and a family friend, Jeff, who helps work and set up the cars.
"It is definitely a challenge to balance the two," Kole said. "There is obviously a lot of work that goes into racing during the week, that culminates on a Saturday night at the track. It's really tough to find the time to put in as much as what I want to during the week.
"I have worked out a schedule where I can really put a lot of hours in on Sundays after we unload the car from the night before, and on Friday nights. Sacrificing some Friday nights was at first a little difficult, but I've come to realize this is what I love doing and I wouldn't change a thing."
As he continues through his mechanical engineering classes, he is able to apply what he learns to make adjustments to his car and his driving style.
"When it comes to setups, I am still learning and have a long way to go, for sure," he said. "However, some of the reasons why certain adjustments affect the car the way that they do are understandable because of my Trine education. Aerodynamics, thermodynamics and most importantly physics are all some of the course types that have helped me with racing."
He hopes to see even more success next season, as he plans to debut a new car he and his father purchased for the team this past winter.
"It's been a great learning experience on assembling a new build, and I look forward to racing it and seeing what kind of speed it could have," he said.
Long-term, he said that while he doesn't expect to repeat his father's success, he would like to win a track championship at Angola and compete at other venues.
"I have been to so many tracks as a spectator, and I always am thinking where my braking points would be and what line I would run," he said. "I think with more funding and some additional crew members, traveling to race at some new and interesting tracks would be amazing."
In terms of a career, he has looked into options in the motorsports industry in Charlotte, North Carolina, but found most teams are looking for those with many years of industry experience.
"Otherwise, I would like to stay somewhat local so I can still race and be close to our shop at home," he said. "I have kept my options open by maintaining a high GPA (3.98) and seeking a metallurgy minor as well."
Last Updated: 10/04/2021