Starting at the top: Trine student gains experience at NFL's premier event
Nicole Maroney's first NFL game happened to be the biggest one of all.
The Trine University sport and recreation major from New Buffalo, Michigan, spent 10 days in Tampa, Florida, as part of a program sponsored by Living Sport, an organization that provides work and study experiences for students interested in a sports career. The experience included working at Super Bowl LV.
Nicole heard about the program when faculty advisor Brandon Podgorski shared information with Trine's Sports Management Club. She said guest speakers at club meetings had encouraged students to build networks and take opportunities to make a leap into the industry.
"I knew it was a unique opportunity to network with people around the same age as myself as well as other sports professionals," she said. "I really wanted to dive into the sports industry and experience firsthand what sports was all about."
She applied for the program in October and was told it had filled up. In December, she received an email stating that there would be one more round of interviews via Zoom.
"When I received the email that I was accepted into the program, I was over the moon," she said. "I immediately called my parents, who are some of my biggest supporters, and we celebrated together. It was an incredible feeling."
She arrived in Tampa on Jan. 31. The first few days were spent in programming with Living Sport mentors, which included staff from Living Sport as well as faculty and professionals in health and sports. Students also had the chance to network with representatives from the Tampa Bay Buccaneers, the Tampa Bay Rays, the Tampa Bay Lightning and the New York Yankees, who have a spring training facility in Tampa.
"After our first full day we took a pedal boat down the river in Tampa and got to see all the parks where the Super Bowl Experiences were set up," she said. "We also did a cultural walking tour where we learned about the history of Tampa. We explored Tampa when we weren't in the program and tried local restaurants and walked around downtown."
During the second half of the trip, Nicole and the other students managed event-week attractions and fan experiences at the Super Bowl Experience, and assisted in hospitality efforts and at events during the Super Bowl itself.
"During the Super Bowl Fan Experience, we were all stationed around the different parks," she said. "I was stationed at the 'NFL Draft' where fans could get 'drafted' to their favorite team and walk across a stage with their name being announced. I was also stationed at the NFL Museum that housed all the Super Bowl rings, the AFC and NFC championship trophies, and some cool memorabilia."
During the big game, she worked from noon to 11 p.m. inside Raymond James Stadium for Populous, the firm that has directed event design for the Super Bowl since 1985.
"We worked the concourses at the stadium, assisting ticket holders with their mobile app and directing them on where to go for food and NFL stores, and how to get to their seats," she said.
She had never been to an NFL game, and though she worked most of it, she said she was able to catch glimpses of the action from a food vendor's television. Her supervisor also allowed her group to watch part of the halftime show.
"It was really spectacular in person," she said.
The experience was also her first visit to Tampa, which impressed her with its support of the hometown Buccaneers, who eventually won the game, as well as the amenities the city offers.
"There is so much to do around the city. Every day we were able to go out and do something new," she said.
She enjoyed being able to connect with students and professionals who are passionate about the sports industry.
"I learned that while the sports industry is huge, the people who work in that industry are very well-connected and the community itself is very small," she said. "I was able to grow my network among my peers and others that I met on the trip."
She said she is interested in an eventual career in sports ticket sales.
"I'm not sure what sport I want to work in, but I want to diversify my resume and see what I am truly interested in," she said. "One of my goals for this year is to get out of my comfort zone and to push the limits of what I can do. I think this experience really helped me get closer to that goal and experience sports in a different way."
Living Sport is a reimagined sport study abroad program that gives aspiring sport industry professionals the chance to receive international and domestic work experience and the opportunity to explore the world through sport. Led by sport industry professionals, the Sport Business Program by Living Sport was created to give passionate students and recent graduates an edge over the thousands of job seekers looking to secure a career in sports. Program participants will interact with sports business professionals creating a lasting network that extends far beyond the program. For more information on Living Sport and upcoming programs, visit livingsport.com.
Top photo: Nicole Maroney stands inside Raymond James Stadium in Tampa, Florida. The Trine University student worked at Super Bowl LV as part of a program sponsored by Living Sport, an organization that provides work and study experiences for students interested in a sports career.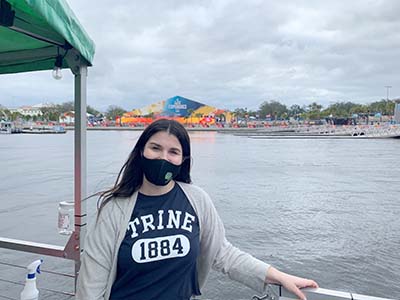 Nicole Maroney takes a boat tour in Tampa, Florida. The Super Bowl Fan Experience is in the background.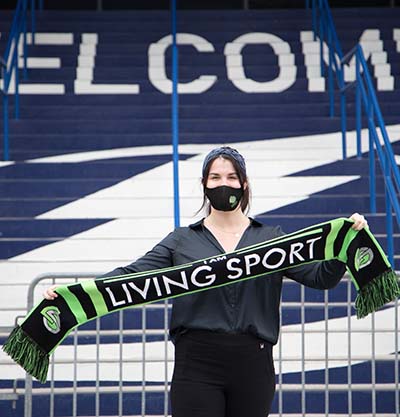 Nicole Maroney worked at Super Bowl LV as part of a program sponsored by Living Sport, an organization that provides work and study experiences for students interested in a sports career.
Last Updated: 02/15/2021