Trine DPT student helps save woman from freezing river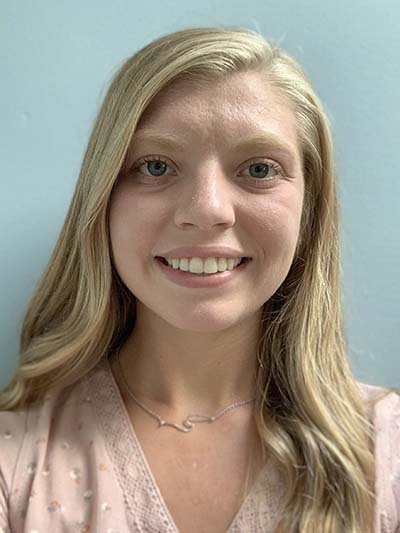 FORT WAYNE — A cross country and track athlete while she was on Trine University's main campus, Miranda Coombs, now a Doctor of Physical Therapy student at the university's College of Health Professions, continues to run to stay healthy.
However, a recent run not only contributed to her own health, but helped save a life.
On Jan. 25, the 2020 exercise science graduate was about a mile and a half into her route on a bike path running next to the St. Joseph River. The temperature was in the 20s and the river was partially covered in ice.
As she crossed under a bridge, she saw a young woman about chest-deep in the water out of the corner of her eye.
"My first reaction was that she was a ghost," she recalled. "I think my mind knew what was happening, but did not want to accept that because I really did not know what to do and was scared of what might happen."
According to news reports, the woman had entered the water voluntarily.
"Next to the bike path, there is a spot where you can walk into the water," Coombs said. "Her backpack and coat were sitting on the ground next to the water."
After getting past the initial shock, Coombs called to the woman to see if she was alright. The woman stared back but did not respond.
Coombs looked to see if anyone else was nearby or coming down the bike path, and when she looked back, the woman had disappeared behind a wall underneath the bridge.
"I thought that she may have gone under the water, but I could see her wake," Coombs said.
Still frightened, Coombs called her roommate, who told her to call 911. As she finished the 911 call, a biker passed on the path and could see something was wrong.
"He stopped and I quickly explained what happened, so he walked along the bike path to see if he could see her from the other side of the wall," Coombs said,
They spotted the woman again and called out to her. She finally responded.
"The only thing we could make out was that she was yelling, 'I don't want to die,' and, 'I can't swim,' " Coombs said.
About five minutes after Coombs had called 911, police and firefighters arrived. Dispatchers called Coombs back and asked her to go up to guide firefighters to the location, while the biker continued to talk to the woman.
"I went up to the road, flagged down the fire truck and a man with a wet suit came out," she said. "I walked him down to the river and he walked in and was able to pull the girl out."
The rescue took about three minutes, and the woman was unharmed.
"I was still in shock that it had happened. I had never been in a situation like that before," Coombs said. "I was very relieved that she was alive and hopefully going to get the help that she needed."
Coombs said that if she would have been a few seconds slower on her run, she probably would not have seen the woman.
"I am just so thankful that I was put in that situation to be able to help save her," she said. "You just never know what's going on in someone's life for them to get to that point. I hope anyone else who is struggling in that way is able to reach out and find the help they need."
Last Updated: 02/09/2021