Road on Trine campus named in honor of alumni, trustee and supporter Oeder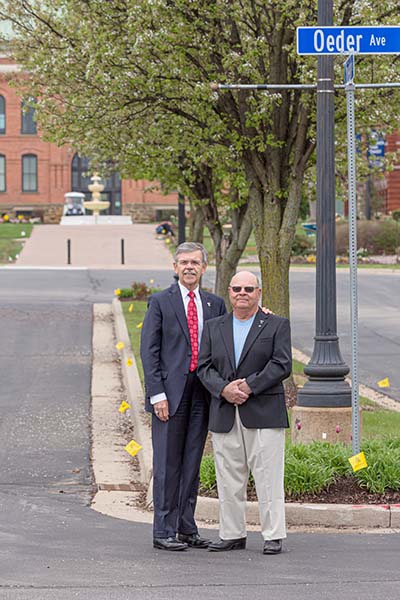 Trine University honored alumnus, trustee and longtime supporter Richard Oeder by renaming a roadway near the university's main entrance in his honor on Friday, April 30.
Formerly part of West Gale Street, the section of road is now designated Oeder Avenue.
"Just as this avenue runs into the central part of our campus, Richard's leadership as a trustee has been a central part of the growth and success of Trine University over the past 25 years," said Earl D. Brooks II, university president. "We are forever grateful to Richard and his wife Kathy for their generous support for the vision and mission of Trine University, both financially and through many hours of service they have given."
Oeder grew up in Hamilton Township, Ohio. His father, Les, started a concrete block and excavating operation in 1929, building many key attractions in the area, as well as Oeder's Lake, the massive expansion, he, and later Richard, called home. For decades, Richard has allowed civic groups – ranging from firefighters in training to Boy Scouts to senior citizen groups – access to his family's lake and the surrounding camping area.
Richard graduated from Tri-State University in 1965 with a Bachelor of Science in civil engineering. Following graduation, he joined Columbia Gas as a junior district plant engineer. During his 33-year career, he held numerous positions, including district plant engineer, general plant supervisor, supervisory plant engineer, motor transportation manager and district plant manager. In 1991, he was promoted to area manager for Springfield, Ohio, operations and retired in 1999.
A member of the Trine University Board of Trustees since 1995, Richard has been involved in many activities on and off the Trine campus, serving on various boards and committees from academic affairs to student life. He currently chairs the Enrollment and Marketing committee and serves on the Executive Committee and Committee on Trustees – also serving as a mentor to new members of the board. He is a past president of the Trine Alumni Association Board of Directors, and in 1995 he received the Alumni Distinguished Service Award.
In 2016, the university honored him during Homecoming weekend with the Pillar of Success award, which recognizes individuals for their achievements and accomplishments, leadership, service, philanthropy, commitment to their community and profession, and to Trine. His wife, Kathy, was honored with the university's Woman of Distinction award in 2019, recognizing the powerful contributions of women in the areas of philanthropy, business and education.
In his community he has volunteered as a leader for Boy Scouts in Columbus, Ohio. In addition to being certified as both an emergency management technician and state firefighter, Richard is a member of Sigma Phi Delta Fraternity; American Society of Civil Engineers; Pioneers Engineers Club; Lebanon, Ohio Chamber of Commerce; Lebanon, Ohio Rotary; Fort Ancient Restored Machinery Club; United States Power Squadron; Grace Community United Presbyterian Church; Farm Bureau; and Ohio State University President's Club. He is also an officer and recruiting captain for Salem-Morrow Fire Department.
In 2012, the Warren County Foundation honored Richard during its annual awards banquet with the George R. Henkle Philanthropy and Community Service Award, stating that Richard "is involved in so many different organizations and groups that benefit Warren County, it's almost impossible to name them all. His whole family has set an example of volunteering that would inspire anybody."
Photo: Trine University President Earl D. Brooks II, Ph.D., left, and alumnus, trustee and longtime supporter Richard Oeder stand near a sign designating Oeder Avenue on the Trine University main campus Friday, April 30. (Photos by Kacie Galloway)
Last Updated: 05/04/2021