Trine graduate earns award to expand into digital forensics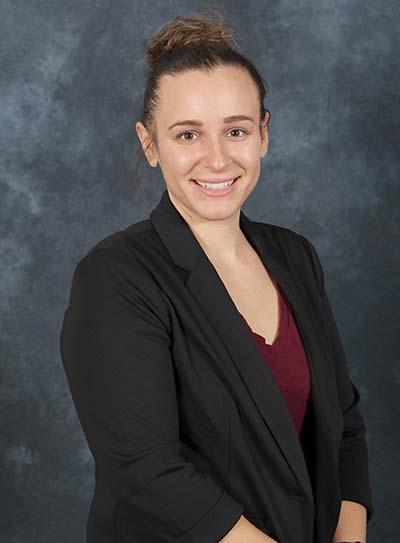 Shandra (Clawson) Hawes gained an appreciation for digital forensics when she started working as a civilian criminalist for the Westfield, Indiana, police department.
"I saw just how important even a few text messages recovered from a phone could be for a case, and realized that expanding my knowledge in this area would be helpful for my team and my career," she said.
An award Hawes recently received will greatly enhance her and her department's ability to process and manage digital evidence.
A 2013 forensic science graduate from Trine University, Hawes recently was announced as one of only four winners worldwide — and the only winner based in the United States — of a Magnet Forensics Scholarship Award.
As a scholarship winner, Hawes and her department will receive Magnet Forensics' software, Magnet Axiom, which the company says is used by the largest law enforcement agencies in the U.S. She also will receive one year of training in digital investigations and the opportunity to be certified as a digital forensic examiner.
Waiting weeks for evidence
Currently, the department has to send electronic evidence to larger agencies for processing, which adds time to an investigation. Hawes said that usually the department takes in three to five cell phones as evidence per month, and one or two computers a year.
"It sometimes takes weeks for the Westfield Police Department to receive evidence from a single phone," she said. "It's common for even the largest police agencies to have digital evidence backlogs because of the growing number of devices in households and businesses, so we had to wait for the other agencies to process their own evidence before they could start on ours."
Hawes was researching companies that offered software to process digital forensic evidence when she came upon the Magnet Forensics Scholarship Awards and decided to apply. She said she was "ecstatic" when she received the news she had won.
"I couldn't believe that I had been chosen out of all the applicants from around the world," she said. "I felt very honored."
Being able to process digital evidence in-house, she said, will allow her to help detectives, officers and prosecutors build stronger cases and return devices to citizens much more quickly.
'CSI' in real life
In addition to now working with digital evidence, as a civilian criminalist, Hawes documents crime scenes through notetaking, videography, photography and sketching and measuring. She also processes scenes by collecting swabs for possible DNA and by latent print powdering areas that may have been touched by a perpetrator.
She said although television shows like "CSI" realistically depict the process of documenting and collecting different types of evidence, it takes much longer in real life and the evidence isn't always available.
"The show gives an unrealistic perception of how quickly you can get results back from the lab and makes it seem as though investigations are solved within a matter of days," she said. "In the real world, it could take months, sometimes years, to actually solve a crime.
"On 'CSI,' there's almost always fingerprints or DNA on everything they find that will help them solve the case. In the real world, while we hope for this to happen, it usually doesn't."
She also serves as property room manager for the Westfield Police Department, where she manages evidence intake, gets items ready for testing at the Indiana State Laboratory and releases items back to their rightful owners.
Challenging, but rewarding
Hawes became interested in working in forensics after taking an online course during her senior year of high school.
"The course opened my eyes on how challenging, yet rewarding, working in forensics can be," she said.
She decided to attend Trine because she liked the small class sizes and the campus atmosphere.
"I also felt like the forensic science major was grounded in the sciences and would really prepare me for whichever direction I decided to go in the field," she said.
After graduating, she took a job as a latent print technician, processing improvised explosive devices in Virginia for two years. She then worked as a crime scene specialist for the Indianapolis- Marion County Forensic Services Agency for two years before being promoted to crime scene specialist technical leader.
"My education at Trine gave me the tools and skills to be successful in this field," she said. "It provided me with a solid foundation in the field of forensic science that I know helped give me a step up in my career."
After three years, she was ready for a change in the type of crime she was seeing on a daily basis, and joined the Westfield Police Department. She said her new position also has allowed her to take on more of a leadership role, and now, the opportunity to expand into a new realm.
"I just want to say thank you to Magnet Forensics for awarding me this scholarship, and for the opportunity to learn and grow in the field of digital forensics," she said.
Last Updated: 07/27/2021