Trine team's project advances in Space Apps Challenge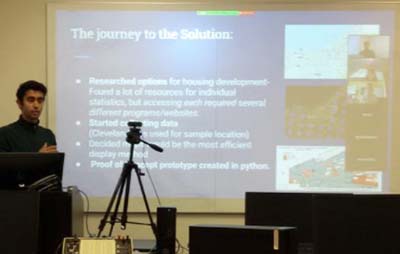 Two teams including Trine University students competed in NASA's International Space Apps Challenge Oct. 2-3, with one team advancing to additional rounds of judging.
Space Apps is held annually at locations around the world, inviting members of the public from diverse backgrounds to work together to solve important challenges related to NASA's mission. Teams this year could choose from 28 challenges.
The team that worked on the "Drones and Satellites for Urban Development" challenge won the first-place award for Global Impact at the Cleveland, Ohio, location. That group's project will compete with projects from other locations in additional rounds of judging.
Team members were Adam Goyetche, a computer engineering major from Westlake, Ohio; Daniel Siebeneck, a mathematics major from Continental, Ohio; Garrett Howell, a biomedical engineering major from Brownsburg, Indiana; Dhairya Mishra, a software engineering major from India; Dru Walkowski, an electrical engineering major from Montpelier, Ohio; and Jillian Eddy from Kent State University.
The team's challenge involved using data from satellites, drones and other platforms to help local stakeholders develop urban plans that are more sustainable and inclusive, and less susceptible to disaster impacts.
The group's investigation found there is no current tool to aggregate publicly available data such as public transportation, soil structure, solar gradient and zoning when designing and placing a building. The team designed software to convert the data into visualized overlays.
"You can choose factors like property tax, water supply rates and even solar coverage," Mishra said. "The app will show you an intersection of these zones to allow you to better identify the best location for development according to your preferences."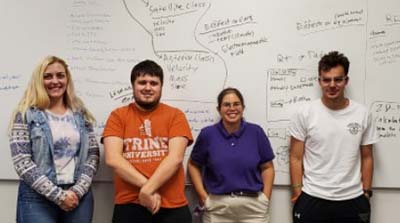 A second team worked on the "Mapping Space Trash in Real Time" challenge. That team's members were Maria Steffel, a computer engineering student from Sherwood, Ohio; Nick Biegel, an electrical engineering major from Hanna, Indiana; Nikolas Pensyl, a computer engineering major from Westfield, Indiana; and Andrea Mitofsky, Ph.D., professor in Trine's Department of Electrical and Computer Engineering.
First held in 2012, the NASA International Space Apps Challenge serves as innovation incubation and civic engagement program. The year's Space Apps Challenge included more than 28,000 registrants, spanning 162 countries and territories. Using open data from NASA and its nine partner space agencies, they produced 2,814 projects.
Last Updated: 11/02/2021