Trine student finds inspiration in probiotic engineering REU
By John Lewis
Communication '23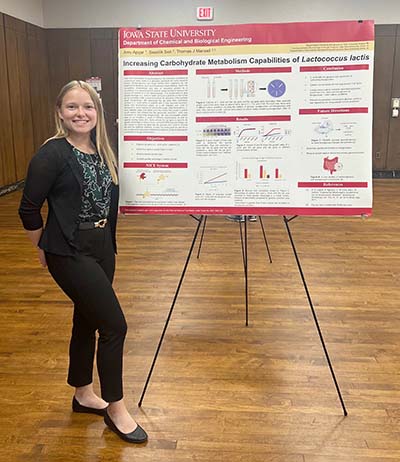 A Trine University junior gained new inspiration and a new career path after her Research Experience for Undergraduates, or REU.
Amy Apgar, a biomedical engineering major from Wickliffe, Ohio, worked in Ames, Iowa, this past summer at Iowa State University's Department of Chemical and Biological Engineering.
Under Dr. Thomas Mansell, Ph.D., an assistant professor at the university, Apgar's research focused on genetically engineering the bacterium Lactococcus lactis to use an alternate carbohydrate as its main energy source, so that it could work more effectively to improve intestinal health as a probiotic.
"Most bacteria consume glucose, so if we allow it to consume a different type of sugar, it will be able to more effectively populate in the gut," she explained. "Our future goals are to use it also as a biotherapeutic to aid with [inflammatory bowel disease]."
'Every day was different'
Apgar became part of this REU after spending at least an hour every day looking for available opportunities for summer 2022. She started her search in October 2021, though she said most students wait until December, and applied to every one she could find.
Apgar excitedly described her experience over the summer, especially when going into detail about the work she had the chance to do.
"Every day was different," she said. "We started with inserting a plasmid to trick the bacteria into eating another sugar… and at the very end we started working with CRISPR, a genome editing process that uses modified DNA to permanently place a new gene into the genome."
"My favorite part was working with new techniques and machines I had never heard of before," she said, adding, "Working with genetic engineering is much more interesting than I thought it would be. It surprised me how easy it could be to change life, since until this summer I didn't even know how scientists could edit genes."
At the conclusion of the 10-week program, Apgar presented her findings, and the possible uses of her research in treating intestinal disease, in front of peers in the REU program as well as professors at Iowa State University.
This experience helped put her on a new path after her time at Trine University ends, one she had never considered before.
"I loved it a lot. It helped me realize that I do like research," she said. "I was thinking of going to PA school or medical school after graduating, but now I'm looking at going to grad school for chemical engineering."
For any future students looking to join a research experience, Apgar advised, "It's about the experience, not just the research."
"I never saw myself in Iowa at a big school, but that's exactly where I ended up," she said. "The research is important, but that isn't your whole life. Traveling for work, and stepping outside of my comfort zone, ended up being a lot of fun."
Last Updated: 09/15/2022