Trine student wins big with small machines
By John Lewis
Communication '23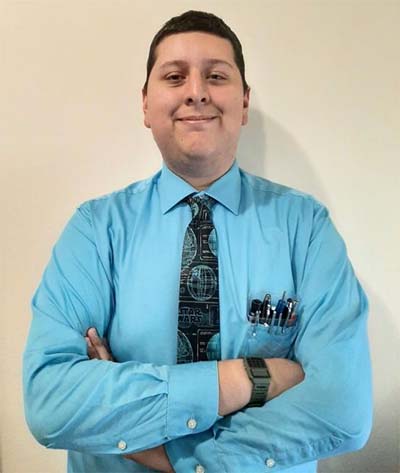 One Trine University mechanical engineering major had a hugely successful summer working with tiny satellites.
Ismar Chew, a Trine University senior from Indianapolis, joined Dr. Adam Huang, Ph.D., at the University of Arkansas for a 10-week Research Experience for Undergraduates (REU).
The focus of the experience was experimentation on sodium azide as a propulsion material for CubeSats, a type of nano-satellite that is traditionally a 10-centimeter cube. Chew's team attempted to address the tendency of these sodium azide crystals to grow dendrites, or offshoots, that can damage the electronics in the satellite in mid-flight.
Chew spent almost half the summer reviewing the research already present on the topic in order to better plan his own experiments. Then, with his own plan in mind, he sprang into action.
"I spent the rest of my summer testing methods to reduce the evaporation rate (of sodium azide), and testing various materials to deposit the crystals on, as in my research I found that both of those factors contribute to dendritic growth," he explained. "I did temperature testing and relative humidity testing to slow the evaporation rate. Another student and I had to build our own humidity control chamber, as the university didn't have one."
"There's not a lot of published work on dendritic growth for sodium azide compared to other salt crystals, and that, plus how useful it is for propelling CubeSats, is why I was focusing on it," he added. "As far as I can tell I'm the first person to grow sodium azide crystals without dendrites, although they might not have been pure, as they ended up turning green."
Chew enjoyed working hands-on in the field, especially being as independent as he was during this experience. He said it helped point him toward a graduate program in aerospace engineering, with an emphasis on propulsion.
"I did a lot and I learned a lot, and it fully cemented my intention of going to grad school," he said. "I would encourage anybody who's thinking about going to grad school to look for an REU."
But helping him plan for the future wasn't the only benefit of his REU. Chew's work has been noticed on a professional scale. His work will be published through the American Society of Mechanical Engineers, and he has been asked to speak at a conference in Columbus, Ohio, on Oct. 30.
Last Updated: 09/19/2022