Trine student builds fire hose flag for department
By Todd Helberg
The Crescent-News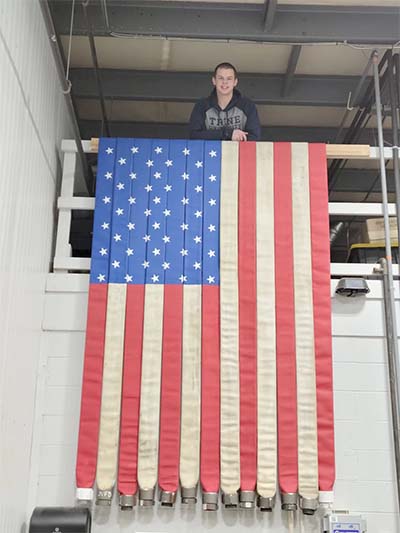 Long enamored by the fire service, a Trine University student has put his passion and patriotism to work by creating and piecing together a special flag now on display in the Jewell (Ohio) Fire Department.
Devin Flory, whose father, Eric, is the fire chief of the Jewell department, used disused fire hose to complete the patriotic gesture.
He said the three-inch hose that originally was white in appearance was flattened to five inches and attached to a board, each strip of house resembling one of the U.S. flag's stripes. The flag measures about 63 inches wide and 9 1/2 feet tall, and now hangs from a balcony area in the fire department.
Using 50-foot sections, Flory cleaned up the hose and left the original color for six of the flag's stripes while seven other stripes were painted red and the star field was painted blue. The 50 stars were stenciled and painted white, that alone taking about six hours to complete, according to Flory, as he had to paint each one.
All told, Flory said he spent about two weeks and about 12 hours putting the flag together, doing so during his holiday break from Trine University in Angola, Indiana, where he is a freshman majoring in design engineering.
He said the idea for the flag came to him from something he saw on Instagram while his father encouraged him to continue with a U.S. flag design and colors.
"He said if you're going to do it, do it right," explained Flory, a 2021 Tinora High School graduate.
He is a volunteer firefighter with the Jewell department presently, and has aspirations to design fire trucks after college.
"My end goal is to go up to Wisconsin to build fire trucks for Pierce Manufacturing," said Flory of the Appleton, Wisconsin, builder of fire trucks.
His mother, Tammy Flory, said she is proud of her son's recent accomplishment.
"There's no words, I'm just proud of him," she said, noting that the flag shows "what we believe in. He's (Devin) got military friends and family — just what he's proud of and where he comes from."
Devin also comes by his interest in the fire service honestly.
Besides his dad, Eric, he noted a number of aunts and uncles involved in the fire service through the years while his great grandfather, Bob Flory, was Jewell's first fire chief in 1953.
"It just kind of flowed in the family," Devin said.
Story republished courtesy of The Crescent-News, Defiance, Ohio.
Last Updated: 01/05/2022