Feddeler receives Hershey Scholarship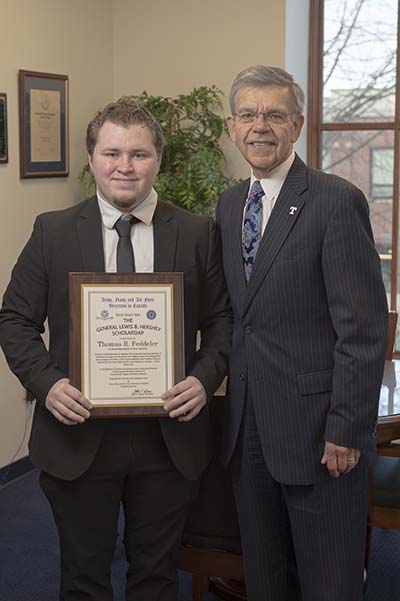 Tommy Feddeler, a Trine University junior from Wheatfield, Indiana, is the 2021-2022 recipient of the General Lewis B. Hershey Scholarship.
The General Lewis B. Hershey Scholarship was established in 1988 by Army, Navy and Air Force veterans in the United States and Canada to honor Gen. Lewis B. Hershey, a Tri-State College (now Trine University) alumnus and former Director of Selective Service for the United States. Hershey Hall, the Trine University fieldhouse, is named in his honor.
The scholarship is awarded each year to a Trine University sophomore or junior who has demonstrated academic achievement, with a minimum cumulative grade point average of 3.0, and leadership potential.
Feddeler is the son of Thomas Feddeler Jr. and Noel Feddeler, and a graduate of Kankakee Valley High School in Wheatfield. He is concurrently pursuing his Bachelor of Science in business administration with a major in accounting and his Master of Business Administration at Trine, and plans to earn Certified Public Accountant licensure.
He is president of the Trine Accounting Club and is currently a full-time intern at BKD LLP in Fort Wayne.
Photo: Tommy Feddeler, left, receives a plaque from Trine University President Earl D. Brooks II, Ph.D., honoring him as the 2021-2022 recipient of the General Lewis B. Hershey Scholarship. (Photo by Dean Orewiler)
Last Updated: 03/02/2022