Public invited to see Trine student innovations at Design Expo
Award-winning robots that fight and solve mazes. A device to wake veterans from PTSD nightmares. New building projects and roadway features. Processes to improve products from biofuels to beer.
Trine University's 20th annual Engineering Design Expo offers members of the community the opportunity to learn more about these projects and other innovative solutions developed by university students this year.
Hosted by the Allen School of Engineering and Computing from 1-3 p.m. Friday, April 29, the free expo will feature 49 senior projects on display throughout the concourse of the university's MTI Center.
Those who attend can learn more from Trine's student engineers about the processes they used to create and, in many cases, implement their design projects.
William Barry, Ph.D., dean of the Allen School of Engineering and Computing, said the Engineering Design Expo gives the Trine community and the general public the opportunity to see how Trine engineering students have applied what they have learned at Trine to real-world projects.
"We have not been able to host the Expo in person for the last two years due to the pandemic, so we're very excited to welcome members of the public to campus again to talk with our students," he said.
Industrial partners for the expo are Abbott Nutrition, Ashley Industrial Molding, BAE Systems, Bill's Towing, Carmeuse, Chapman's Brewery, the City of Angola, Clear Lake Electric, the COOKIE Box, Mike Darch, DAS, Dexter Axle, Atulya Dhungana, Five Star Distributing, Flare Inc., Jim Hauguel (E.O. Snell LLC), Hendrickson, Indiana Space Grant Consortium, Katie Knepper, Loske, Daymon Marlowe, Mastercraft, Inc., Grant Miller, Parkview Health, Pfizer, POET Biorefinery, Pokagon State Park, Precision Medical Industries, Sam Moan, Steve Moore, Perpetual Industries, Photon Automation, Sue Pignataro, RJ Plank, Polymershapes, Positron, Profab, Quality of Life Plus, Nick Santino, Shuttleworth, SOS Hydraulics, Trine innovaton 1, Trine University Admission, Trine Campus Safety, Trine University, Trine University Design Engineering Technology, Trine University Athletics, Ultra USSI Maritime, Univertical, Nick Warren, WL Molding, Wayne Crouse Inc. and Nathan Wood.
The university invites area businesses and organizations to submit projects for senior-level business and/or engineering students to complete during the 2022-23 school year. For more information, contact Jason Blume, executive director, Trine innovation 1, at 260-665-4265 or blumej@trine.edu.
Top photo: The Trine University senior design team of, from left, Alex Rushing, Zach Deutsch, Harrison Jones, Schuyler McNaughton and Dillon Embry, will be available to discuss their entry in the annual AIAA Design/Build/Fly competition at the university's Engineering Design Expo on Friday, April 29. (Photo by Dean Orewiler)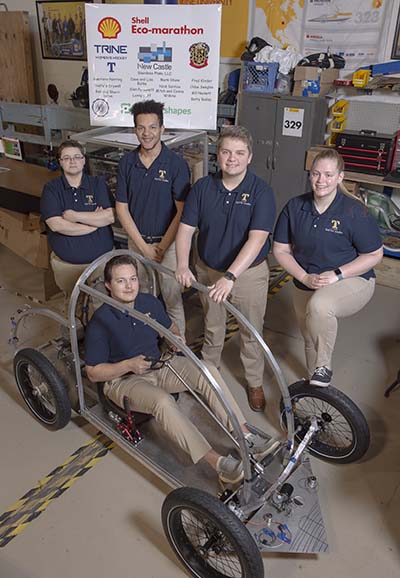 This Trine University team designed a vehicle for the Shell Eco-Marathon in the Urban Concept class. Team members, from left, standing, Mercedes Locklin, Trey Thomas, Johnathan Personett, Kat Burke and, seated, Dominic Iacovetti, will be available to discuss the project at Trine University's Engineering Design Expo on Friday, April 29. (Photo by Dean Orewiler)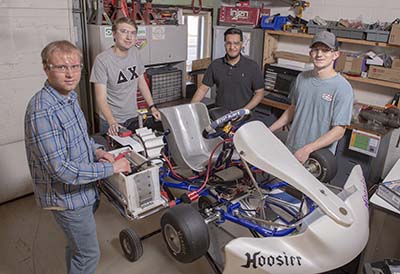 The Trine University EV Grand Prix team will be one of 49 senior design teams presenting their projects at the university's Engineering Design Expo on Friday, April 29. Team members are, from left, Seth Knepper, Joshua McCallum, Mishiari Altammami and Brian Morris. (Photo by Dean Orewiler)
Last Updated: 04/25/2022