Making a difference: Trine design project helps veteran enjoy kayaking
They majored in biomedical engineering to help people, and three Trine University graduates got to see the impact they can make firsthand when they handed off their senior design project May 13 to a U.S. Marine Corps veteran.
Supported by a BAE Systems program, Kortney Helm of Muncie, Indiana, Madison Howard of Pleasant Lake, Michigan, and Connor Moon of Toledo, Ohio, designed and built a system to help Chris Billmyer, a double above-the-knee amputee from Dubuque, Iowa, better enjoy kayaking.
Challenges in the outdoors
Billmyer said he is "a big water sports guy."
"I love being on the water," he said. "I was stationed out in California and did a lot of surfing, skim boarding, snorkeling."
He served as an Infantry Assault Marine from 2007-2012 and was injured in Afghanistan on his third deployment. He spent two years in a hospital and now uses a wheelchair to get around.
He graduated from college about the time COVID-19 hit, and said the pandemic provided a lot of time to try outdoor recreational activities.
"Being active is one of my top priorities in life," he said. "When you're in a chair or you lose some of your mobility, activity is even more important than when you're able to do it all. Your body just breaks down more, so being out is important, mentally and physically."
However, outdoor activities can be challenging for those with disabilities. With kayaking in particular, Billmyer suffered excess shoulder and back strain from lifting the kayak into and out of the water, in addition to getting wet while launching.
Helping veterans through Tech Power
He connected with a staff member at America's VetDogs, which partnered this past year with BAE Systems, a global aerospace and defense technology company, on BAE's Tech Power: Innovating for Impact program.
"She said there was an opportunity for students to make some stuff for me, so I said, 'Sure, why not?' " Billmyer said.
BAE Systems' program connects veterans, leading engineering programs at colleges and universities nationwide, and engineering mentors to create innovative, custom-designed devices to aid the veterans in their everyday lives.
Working under the mentorship of engineers from BAE Systems' Fort Wayne facility and Trine faculty advisors, university senior design teams completed two projects this past year through the program. In addition to Billmyer's kayaking system, another team of Trine biomedical engineers designed a device that detects elevated heart rate and sounds an alarm to wake veterans experiencing nightmares related to post-traumatic stress disorder.
Engineering ping-pong
Billmyer said the process began last fall with brainstorming ideas, mostly via email, with the Trine students.
"It was kind of like a ping-pong match of, 'Is this good? No. Is this good? No. Is this good? It was very straightforward," he said.
"The first semester was getting to understand what Chris's needs are and seeing what specifications we needed to hit, whether that was dimensions of his truck or dimensions of his wheelchair," said Howard. "Then we went through the whole design phase, coming up with different concepts."
Helm said the process provided the students the opportunity to apply skills learned in class, including "a lot of statistical analysis, CAD modeling (and) finite element analysis modeling."
The Trine group eventually decided on a system including a collapsible crane that fits in the back of Billmyer's truck to lift the kayak, a collapsible dolly cart with bag to transport an inflatable kayak, and customized waterproof waders.
During the spring semester, the students built the system and tested it for safety and fit.
Blood, sweat and tears
Moon, whose father served in the military for 25 years, said he majored in biomedical engineering with the hope of one day being able to help disabled veterans as a full-time career.
"To be able to work on a project for my senior design where I get to do eventually what I would like was really rewarding and made all the blood, sweat and tears worth it," he said. "At the end of the day, it wasn't about our grade, it wasn't about the frustrations we were going through, it was about serving a customer and delivering a product to him at the end of the year that would improve his life greatly."
"We all became biomedical engineers, in some way, to help people," Howard agreed. "This project was something where we could really make an impact and see that impact in one year."
It was exciting for Billmyer as well, who planned to try out the new system the next weekend or the weekend after.
"I'm right on the Mississippi River, so I've got the river right there and all the crooks and creeks and things that flow into it to go up and explore," he said. "And then we've got Wisconsin; the lakes are right next door.
"The world's not very accessible, so all the things you can do to make it more accessible and help you push down that barrier to get out and do things are great."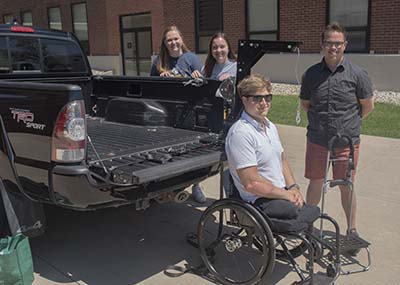 In back, from left, Trine University biomedical engineering students Kortney Helm, Madison Howard and Connor Moon develop a system to help U.S. Marine Corps veteran Chris Billmyer better enjoy kayaking.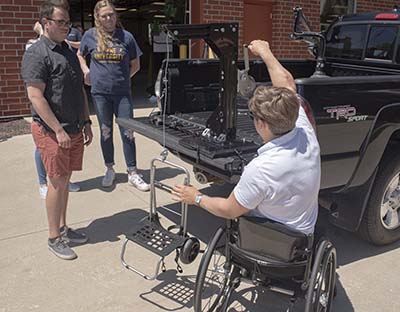 U.S. Marine Corps veteran Chris Billmyer, right, operates a collapsible crane that Trine University students designed to help him lift a kayak into his truck.
"We all became biomedical engineers, in some way, to help people. This project was something where we could really make an impact and see that impact in one year." - Madison Howard, biomedical engineering major
Last Updated: 05/17/2022