Kammie McGreal chose Trine University because of its small size, providing an environment that helped her succeed beyond her expectations.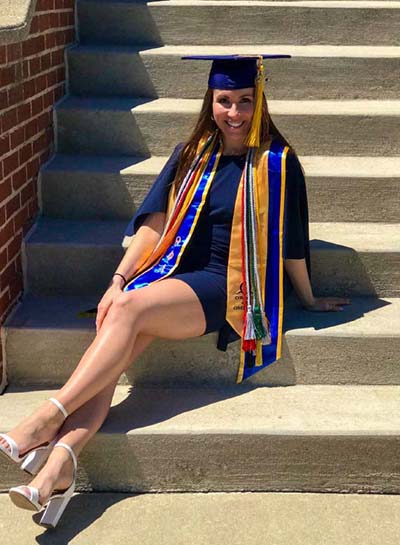 "I knew the atmosphere would hold me accountable and motivate me to become the woman I wanted to be," she said. "It quickly became my forever home."
Captivated by science from a young age and possessing "an unexplainable love for wearing scrubs," Kammie chose to major in biology. She also completed an MBA at Trine.
After hearing associate professor Angela Bojrab, DPM, speak about healthcare careers during her freshman year, Kammie knew she wanted to pursue that field.
"Although few to none had moved on from Trine to pursue a Doctorate in Dental Surgery, my professors did not let that slow me down, but instead did the exact opposite," Kammie said. "They were highly optimistic and encouraged me to bring resources to Trine for my fellow pre-dents."
Constantly involved in extracurriculars as an only child, Kammie found many activities to enrich her Trine experience.
"This balance spread me quite thin at times, but my peers and Trine's faculty helped me remember why I started, with the ultimate goal of giving people their smile back, relieving pain, eliminating insecurities and helping others radiate confidence," she said.
"Trine quickly became my forever home"- Kammie McGreal
Through the university's newly formed Health Science Association (HSA), Kammie was able to network and gain insight from upperclassmen as she began the graduate school application process. She will begin her doctoral degree in August 2022 at Indiana University School of Dentistry and credits her Trine family for making it possible.
She is doing everything she can to help other students following in her footsteps.
"I have spoken on a panel to current students interested in the process, donated study materials, and plan to stay in touch to help spread awareness for future Trine students interested in dentistry," she said.