Lucas Harmon
All through high school, I was interested in mathematics and physics, and I felt that engineering provided me a way to use both of those interests to make a difference in my community and expand my creative abilities.
"When I found out these PLTW classes were offered, I was excited to be introduced to the world of engineering."- Lucas Harmon
I have grown up seeing multiple family members suffer from numerous illnesses, such as diabetes, lupus, arthritis, depression, cardiovascular issues, etc. Seeing my loved ones suffer from these illnesses and other injuries made me want to pursue some sort of degree that would allow me to help others suffering from illnesses and injuries like my family is. I want to be able to make a positive difference in the lives of those around me. So with my determination to pursue some sort of medical degree paired with my interests in mathematics and physics, I was introduced to biomedical engineering.
I did not realize my high school offered PLTW until my junior year, so I was only able to take the introduction to engineering and the fundamentals of engineering courses. When I found out these PLTW classes were offered, I was excited to be introduced to the world of engineering. I wish I had the chance to take additional PLTW courses in high school.
Taking the PLTW classes reassured me that engineering was what I wanted to pursue, so I began looking for schools that offered acclaimed engineering courses. This led me to Trine and I am so happy I found it. Having a fundamental understanding of engineering terms and concepts that I had learned from the PLTW classes in high school made the transition from high school-level classes to college-level engineering classes much easier.
I attended the career fair at Trine in the fall semester of last year and talked to the representatives from Zimmer Biomet and gave them my resume. A few months later I received a call from one of the quality managers at Zimmer Biomet in Warsaw, Indiana, offering me a co-op position for the following spring semester. I decided to take advantage of this awesome opportunity, and actually ended up extending my co-op session through the summer.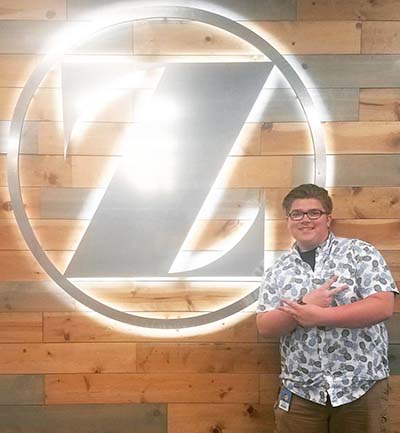 I gained so much useful knowledge during my co-op with Zimmer Biomet and was able to work on multiple projects. My largest role was to assist in improving the nonconformance process as part of a CAPA project. I worked with complex spreadsheets, including the use of macros and power queries for data analysis, developed and executed multiple software validations tests, developed presentations to management to summarize collected data, coordinated with other team members to resolve issues, and multiple other projects. I was able to get hands-on experience with one of the largest medical device companies in the country, and it was an opportunity I am glad I took. I plan on returning to Zimmer Biomet for another rotation next summer.
Trine's financial aid has been an amazing help in making my attendance to possible. I have several scholarships that also assist in paying my tuition, but every additional penny counts. With Trine being a private engineering school, I was afraid I wouldn't be able to attend. But with the help of financial aid and scholarships, my desire to attend Trine University is now a reality, and I am extremely grateful for all the help.
Upon graduating from Trine, I plan to pursue a master's degree in biomedical engineering, and possibly continue for my Ph.D. My overall goal is to have a steady career where I can be challenged daily and put my skills to use to help my community.