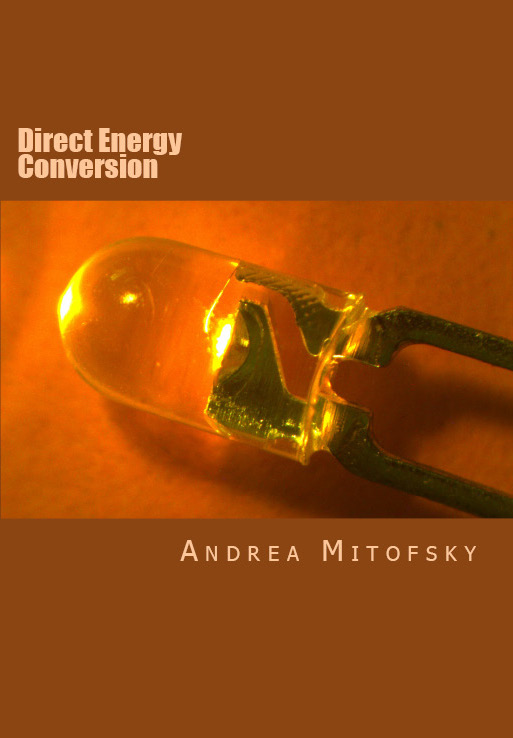 Direct Energy Conversion
by Andrea M. Mitofsky


How to Get the Book
The book can be downloaded for free (4.5mb).

It is licensed under the Creative Commons Attribution-NonCommercial 4.0 International License. To view a copy of this license, visit http://creativecommons.org/licenses/by-nc/4.0/.
A hard copy of the book can be purchased on amazon.


About the Book
Direct Energy Conversion discusses both the physics behind energy conversion processes and a wide variety of energy conversion devices. A direct energy conversion process converts one form of energy to another through a single process. The first half of this book surveys multiple devices that convert to or from electricity including piezoelectric devices, antennas, solar cells, light emitting diodes, lasers, thermoelectric devices, and batteries. In these chapters, physical effects are discussed, terminology used by engineers in the discipline is introduced, and insights into material selection is studied. The second part of this book puts concepts of energy conversion in a more abstract framework. These chapters introduce the idea of calculus of variations and illuminate relationships between energy conversion processes.
This peer-reviewed book is used for a junior level electrical engineering class at Trine University. However, it is intended not just for electrical engineers. Direct energy conversion is a fascinating topic because it does not fit neatly into a single discipline. This book also should be of interest to physicists, chemists, mechanical engineers, and other researchers interested in an introduction to the energy conversion devices studied by scientists and engineers in other disciplines.
Additional Resources
About the Author
Andrea M. Mitofsky received her B.S., M.S., and Ph.D. degrees in Electrical Engineering from the University of Illinois at Urbana-Champaign. In 2008, she graduated with her Ph.D. degree and began teaching at Trine University in Angola, Indiana. She is currently an Associate Professor in the Electrical and Computer Engineering department at Trine University. She can be contacted at mitofskya@gmail.com.