Travis Mills event raises more than $68,000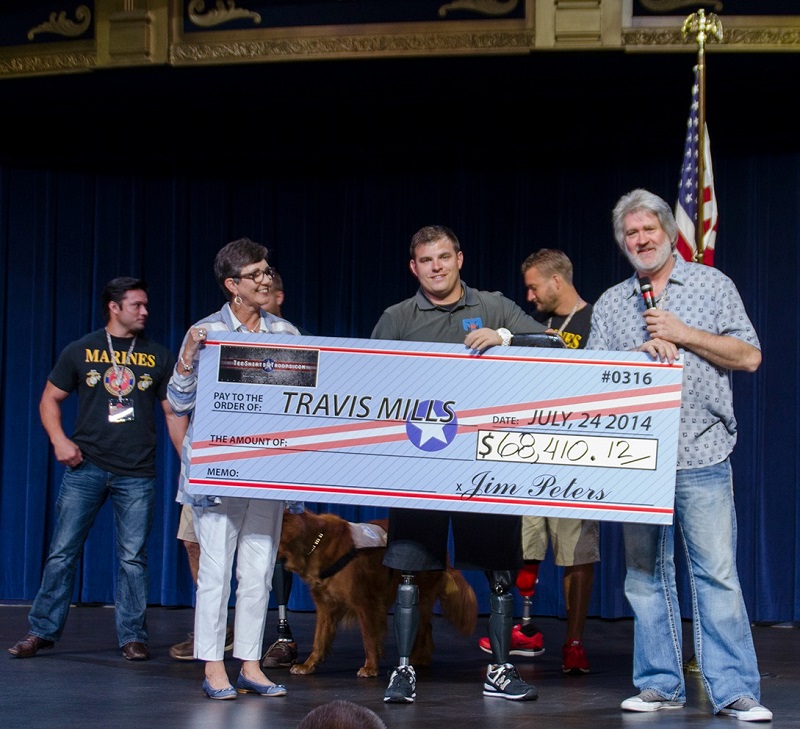 Retired Staff Sgt. Travis Mills, one of five surviving quadruple amputees from the wars in Iraq and Afghanistan, inspired more than 575 individuals at the T. Furth Center for Performing Arts on July 24.
Mills was injured when he detonated an improvised explosive device (IED) that twice eluded detection.
The documentary "Travis: A Soldier's Story," which chronicles his injury and road to recovery, was shown before Mills participated in a question and answer session with the audience. Mills, a native of Vasser, Mich., uses humor to put others at ease and serves as a motivational speaker (travismills.org).
The fundraising event was sponsored by Tee Shirts 4 Troops (TeeShirts4Troops.com), an organization that supplies clothes and adaptive clothing to injured soldiers. The event raised $68,410. Tee Shirts 4 Troops was founded by Jim and Debbie Peters of Indianapolis.
Vicki L. James is a supporter of Tee Shirts 4 Troops. She is also the wife of Rick L. James, chair of Trine's Board of Trustees.
Photo: Jim Peters, right,co-founder of Tee Shirts 4 Troops, and Vicki L. James, left, show Travis Mills, center, how much money was raised for the Travis Mills Foundation. Behind the trio are military veterans who were hospitalized with Mills. From left are Nik Oekerman of Oregon; Justin Lansford of Georgia with his service dog, Gabe; and Max Rohn of Colorado. The three vets surprised Mills earlier that day when they each exited a sports car at a private hangar at the DeKalb County Airport in Auburn.