Trine holds open house and white coat ceremony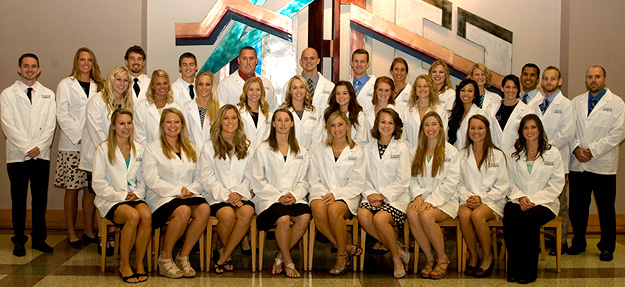 More than 200 well-wishers joined Trine University this morning (Friday, Sept. 5) to help celebrate Trine's new Doctor of Physical Therapy (DPT) program and its first cohort of students.
Cameras flashed and snapped as loved ones recorded the moment their student put on a white coat during the white coat ceremony. Each of the 32 students came forward when his or her named was called to get a white jacket. Prior to receiving the coats, students recited the oath of the physical therapist.
Before the white coat ceremony began, visitors, Trine University trustees and family and friends of the first class of physical therapy students were on hand on when large, ceremonial scissors were used to cut a sheer blue ribbon to open the new Health Sciences Education Center, 1819 Carew St., Fort Wayne.
In opening remarks, Earl D. Brooks II, Ph.D., Trine president, expressed gratitude for the "great turnout" of visitors and thanked Parkview Health for being a "tremendous partner" in developing the DPT program.
Parkview Health System and Trine shared a common goal to develop a physical therapy program and "we're on our way to being one of the best programs in the Midwest," Brooks said of the new program offered through the School of Health Sciences. He added that more growth is expected as Trine plans to have its first class of students in another new program, this one for physician assistant, in 2016-2017.
While the clinical partners are too numerous to mention, Brooks said, he did name Lutheran Hospital, Fort Wayne veterans hospital, Parkview and Turnstone. Working with regional partners affords students greater access to professional, clinical experiences and internships.
Brooks also acknowledged Tom Henry, mayor of Fort Wayne, and the city of Fort Wayne for supporting Trine and the DPT program. Trine and Fort Wayne have a working relationship that dates back at least 20 years when the school opened the Fort Wayne Regional Campus.
Henry noted he chose to wear a Chicago Cubs tie because he and his wife are avid fans, the Cubs have not won a World Series for a long time and it's common to hear fans say "wait 'til next year."
He compared waiting for the Cubs with waiting for an answer to the area shortage of physical therapists. "Years ago, I worked in health care ... we were very concerned we had a shortage of physical therapists. Not only did Parkview suffer, but all of the hospitals around us," he said.
"The schools were very competitive ... we would say 'wait 'til next year," he said. "Well, my friends, unlike the Cubs," Henry said before laughter interrupted his words.
"This is a great statement for this school and for the city of Fort Wayne," he said.
Those sentiments were echoed by Mike Packnett, president and CEO of Parkview Health. He gave kudos to the Trine Board of Trustees because it "takes a great board to have this vision and embrace the health sciences like never before."
This program and students will touch the lives of people who will be affected by students who graduate, Packnett said.
"People want to get back to where they were; therapists today are really working miracles to get people back to where they want to be," he said.
After the ribbon cutting, visitors toured Trine's laboratories where students get hands-on experience in physical therapy. Among those touring the new facility were Rick L. James, chair of the Trine board, and board members Jack Shaw and Ralph and Sherri Trine.
For more information on Trine's Doctor of Physical Therapy program, visit trine.edu/DPT.
Effective 7/29/2014, the Doctor of Physical Therapy Program at Trine University has been granted Candidate for Accreditation status by the Commission on Accreditation in Physical Therapy Education (1111 North Fairfax Street, Alexandria, VA, 22314; phone: 703-706-3245; email: accreditation@apta.org). Candidate for Accreditation is a pre-accreditation status of affiliation with the Commission on Accreditation in Physical Therapy Education that indicates that the program may matriculate students in technical/professional courses and that the program is progressing toward accreditation. Candidate for Accreditation is not an accreditation status nor does it assure eventual accreditation.