Gollnick recognized for 45 years of service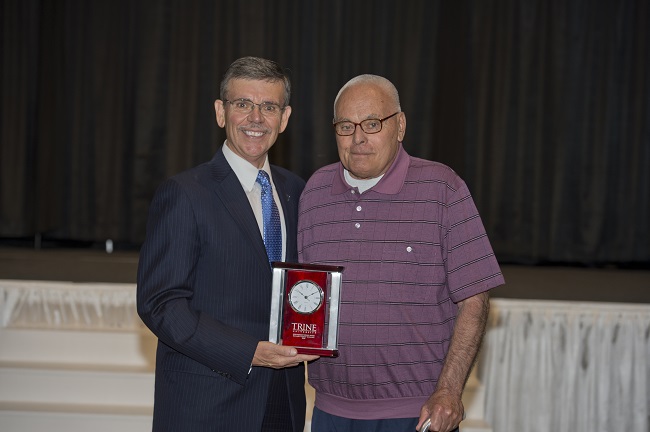 Trine University honored former track and field coach Richard "Dick" Gollnick for 45 years of service at its annual Touchstone and Homecoming Celebration Dinner on Friday, Sept. 30.
Gollnick and his wife Joan came to Tri-State College, now Trine University, in 1971, to launch track and field and cross country programs after building a national powerhouse program at Glen Oaks Community College. In just a few years, despite lacking facilities, Tri-State runners qualified for national events and consistently won NAIA district championships.
Gollnick's teams went on a 16-year run as Mid-Central Conference track and field cross country champions. They were champions again from 1998-1990 before Tri-State entered the Wolverine-Hoosier Athletic Conference, where his teams won championships in 1991-1994 and again in 1998. Gollnick's tenure as coach included eight state championships, five nationally ranked teams, 44 conference championships and six All-Americans.
In honor of the time and financial resources they contributed as well as their athletic success, the couple was inducted into the Trine University Athletic Hall of Fame in 1996 and the track in the Keith E. Busse/Steel Dynamics Inc. Athletic and Recreation Center was named in their honor in 2009. The plaque in the Hall of Fame cites not only their accomplishments on the track but the time they invested in students, recognizing them as not only the founders, but the "parents" of the cross country and track programs at Tri-State.
Joan Gollnick passed away in 2003.
Richard Gollnick has continued to raise funds for Trine University as well as provide personal financial support, and he coordinates the university's annual Track Reunion.