Holcomb touts Indiana comeback in Distinguished Speaker Series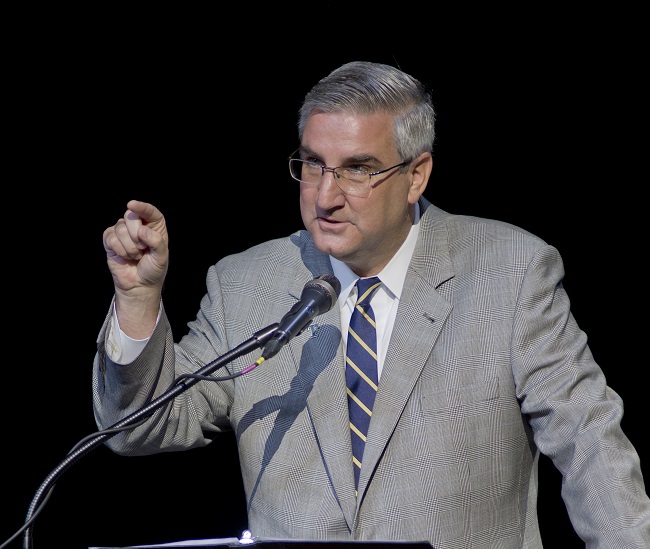 In the year of Indiana's bicentennial celebration, Lt. Gov. Eric Holcomb spoke about both the state's history and the progress it has made in recent years as he opened Trine University's Distinguished Speaker Series for 2016-17.
Holcomb, who is also the Republican candidate for governor, addressed Trine students, faculty, staff and members of the public on Sept. 13 in Ryan Concert Hall in the T. Furth Center for Performing Arts following a remembrance of the Sept. 11, 2001, terrorist attacks.
The University Choir opened with the national anthem before members of the Air Force ROTC presented the colors, and those in attendance observed a moment of silence.
"It's fitting that we join together to honor the memory of more than 3,000 people who died that day, along with family, friends and a nation that still grieves their loss," said President Earl D. Brooks II, Ph.D.
Holcomb was nominated to serve as lieutenant governor by Gov. Mike Pence on March 2 and was confirmed by the General Assembly and sworn into office on March 3. He was selected by the Indiana State Republican Committee on July 26 to replace Pence on the Republican ballot, after Pence withdrew from the gubernatorial race to be the Republican candidate for vice president of the United States.
Holcomb, who served as a member of Indiana Gov. Mitch Daniels' administration, discussed the strides the state has made since Daniels was elected in 2004, and how Trine students can play a role in continuing Indiana's comeback.
"Our state's script will illustrate just how a small state in the Midwest can become a national model for advanced manufacturing for aeronautics, for defense development, for precision data-driven agriculture and for life sciences, relying on you, Trine graduates, to support and supply today's talent even for tomorrow's industries," he said.
"Being the Crossroads of America isn't a motto, it's a mission, and it's one that we've been able to leverage over the last decade-plus in ways like never before. … We've come a long way fast, but we must continue to leverage our strengths, to understand and value our heritage and use it as the foundation upon which to build our future. In short, we must continue to lead. Because I know we have an opportunity to write that script for the next Hoosiers and it will be Trine graduates that are going to hit that winning shot to change the world for the better."
The program closed with the University Choir singing "God Bless America."