Rick, Vicki James awarded Sagamore of the Wabash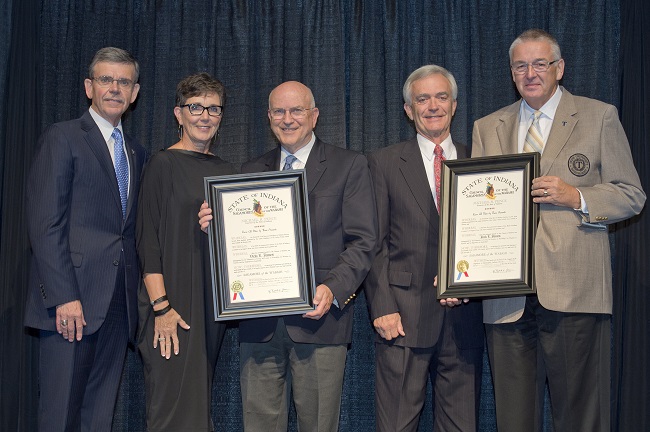 Noted for their leadership in many community efforts throughout northeast Indiana as well as their longtime support of Trine University, Drs. Rick L. and Vicki L. James were presented the Sagamore of the Wabash award, the highest award bestowed by the governor of the state of Indiana, during the university's annual Touchstone and Homecoming Celebration Dinner on Friday, Sept. 30.
"Over the course of your lives you've been motivators to so many givers and transformers in your community. You've inspired a countless number of folks to pursue their passions with your philanthropic spirit behind it all," Indiana Lt. Gov. Eric Holcomb said in a recorded message. "Your spirit of giving is changing lives all across the region and the state is better off for it."
"They are inspirational, successful, creative, caring, compassionate and so much more," Trine President Earl D. Brooks II, Ph.D., said of the couple. "They have been instrumental in infusing new life into Northeast Indiana, especially in Auburn and Angola, and to Trine University, Rick's alma mater. They are significant contributors to a variety of causes, and Indiana, especially Northeast Indiana, is fortunate that they have selected to remain engaged, supportive and dedicated to their region and community."
"We've been blessed in our lives with more than we could ever imagine," Rick James said in accepting the award, "and certainly our involvement with Trine University is one of those special blessings for both of us."
Rick James, a 1977 business administration graduate from Tri-State University, now Trine, serves as chairman and CEO for Metal Technologies Inc. (MTI), a company he co-founded. MTI employs 1,127 individuals, of which 378 are in in Indiana.
Rick serves on the board of directors for the Foundry Educational Foundation, which provides scholarship support to promising individuals who desire to enter the foundry industry, and has been named to the Board of Directors of the American Foundry Association.
Vicki serves in multiple roles at Auburn First United Methodist Church and has served on the Board of Directors for PBS-39 TV in Fort Wayne and RISE, Inc.
Area efforts supported by the couple, either personally, or through MTI or their James Foundation, include the DeKalb Central School District Early Childhood Program, DeKalb High School scholarships, DeKalb YMCA, Auburn Cord Duesenberg Museum, the Indiana United Methodist Church camping ministry at Epworth Forest, the DeKalb County Fair Association, the DeKalb County Horseman's Association, Eckhart Public Library, Junior Achievement of Northern Indiana, the Women's Care Center pregnancy center and the Summer Camp Program at Bridge of Grace in Fort Wayne.
They also have led and contributed to several revitalization efforts in Auburn, including a 100-acre public park, a public arts and culture square, and acquiring and renovating selected buildings to enhance and preserve the historical character of the downtown area and encourage private investment by others.
The couple also supports the Flight 93 Memorial in Pennsylvania, the Fellowship of Christian Athletes and United Theological Seminary.
Rick serves as chairman of Trine's Board of Trustees, of which he has been a member since 2010.
In 2012, Trine bestowed Rick with its highest honor, the Pillar of Success Award. He also previously received the Distinguished Service Award. In 2014, Vicki was honored with the university's Woman of Distinction Award. In 2013, Rick and Vicki both received honorary doctorates from Trine University.
Trine's University Center was named in honor of Rick and Vicki James in May 2012. They provide annual support to the Trine Fund and have financially supported The Metal Technologies Inc. Health and Fitness Center in Fred Zollner Athletic Stadium, a stadium suite in the Athletic Stadium and a flagpole near the football field, an additional house for use by Campus Christian House, the Jim and Joan Bock Center for Innovation and Biomedical Engineering, the T. Furth Center for Performing Arts, the Ford Hall renovation, Reiners Residence Hall, the expansion of Best Hall, and creation of the Books and Beyond Scholarship. They also led the way with a major gift for the recently announced Thunder Ice Arena and MTI Center.
"There is not a corner of Trine University's campus or a project in recent years that has not benefited and progressed due to Rick and Vicki's incredible leadership and generosity," said Brooks. "There is no way to articulate in words or ever repay Rick and Vicki for their leadership, generosity, impact and their commitment to the successes of Northeast Indiana, the communities of Auburn and Angola, and to Trine University."
The Sagamore of the Wabash was created during the term of Indiana Gov. Ralph Gates. The term "sagamore" was used by the American Indian tribes of the northeastern United States to describe a lesser chief or a great man among the tribe to whom the true chief would look for wisdom and advice. It is a personal tribute usually given to those who have rendered distinguished service to the state or to the governor.