Internship gives student taste of long-term care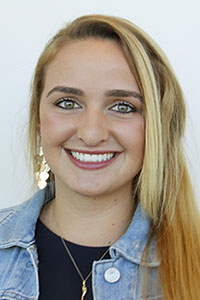 By Annabelle Elder
communications '17
Summer internships give students the opportunity to gain hands-on experience in their field. For senior biology major Laura Rosekrans, this experience meant dealing with many nearing the end of their life.
Rosekrans interned at the MediLodge in Howell, Michigan, a long-term care and rehabilitation facility that specializes in providing personalized attention and medical assistance to its clients. Rosekrans, who has a pre-med concentration, was a certified nursing assistant (CNA) and spent her time interacting with patients. She was there from June until August and decided to stay on as contingency once a month.
To get into graduate school, Rosekrans needs between 500 and 2,000 clinical hours to qualify for the institutions of her choice. She researched the internship at the MediLodge and made sure it was close to home. It was only a 20-minute commute to the facility.
"I interviewed with them and received an offer for the position immediately," said Rosekrans.
"My expectations going in were that I would have to work with a diverse group of patients. I was nervous to figure out how I was going to deal with patients who had Obsessive Compulsive Disorder, who were on dialysis, had diabetes, and were amputees. It would be a challenge to work with the elderly population because it was something I had never done before. The people who were at the MediLodge ranged from 55 to 102 years old. I was aware that it would be a lot of physical labor to take care of the residents. In my CNA class, I studied body mechanics to prepare myself for a position in this particular field."
Transferring residents from one place to another required a lot of strength and some of the residents weighed 300 pounds. Some could not walk at all. Some were double amputees and helping them in a respectful manner was a new skill she had to learn.
Rosekrans worked nights at the MediLodge during the summertime. Because those were down hours for the facility, people were not up participating in rehab or having visitors. She would get a report from the day CNA so that she could see how the residents' day was going. She would stock and answer call lights. She would then start her rounds.
"As a CNA, my responsibility was to be the hands and eyes of those who were limited in their abilities," she said. "CNAs are in charge of assisting residents in any way and to make sure they are comfortable throughout the night. The biggest duty was to answer the call lights immediately to ensure safety."
Rosekrans had to learn to set her own personal emotions aside at work. If she had a bad day, she would not let it be known to the residents.
"When I worked at the MediLodge, I learned patience. A lot of people had dementia and so sometimes it was like talking to a wall. I found it difficult to get from point A to point B with some conversations, because I had to go all the way to point Z first," she said.
She also had to learn how to deal with communicating with someone from a different generation.
"It's easy for me to make conversation with someone my own age, but talking to someone with a mind that is deteriorating provides a challenge," she said.
She added, "It was sad to see that some residents did not remember their childhood, getting married or what their career was. For those who didn't have dementia, I loved learning about their history. The residents would talk about their families, jobs, travels, and would profess what life had taught them."
The residents would also build relationships with her and ask her about her day, even going so far as to give her wise advice. Rosekrans felt like taking care of them was how she gave back to them as they gave her experience and wisdom.
Part of her success in the internship came from a nurse named Tara who took her under her wing. Nurse Tara worked nights with Rosekrans in the same hall and helped her whenever she needed assistance.
"Tara was always willing to assist in any help I needed when we were short-staffed. She mainly helped me with two-assist transfers or bariatric patients that needed help rolling or lifting in bed. I really couldn't have asked for a better supervisor," said Rosekrans.
Something that Rosekrans did not anticipate about working in a long-term care facility was watching patients pass on.
"I witnessed someone have excellent health one month, and then the next, have such bad health that she passed away," said Laura. When working with residents on a day-to-day basis, CNAs like Rosekrans connected with them and built relationships.
"To walk in and see that they had stopped breathing was very hard to deal with," she said. "Even if I worked with them for a month, we still formed a relationship."
The first time it happened to Rosekrans, she admitted it was a "very emotional" experience.
"My ultimate goal was to ensure that residents were comfortable and happy in the last years of their lives," she said.
Rosekrans said that working in a care team to benefit one person is what will help her when she becomes a physician assistant.
"I started at the bottom of the chain of command, which will help me respect those who work underneath me when I become a PA," she said.
Rosekrans said she was deeply affected by her internship at the MediLodge and learned very much for just a summer internship.
"It was completely rewarding," said Rosekrans. "Spending that time with the residents was the most rewarding part. Every day that I clocked out and went home, I felt very thankful that I could touch my residents' lives in some way."
Rosekrans is keeping busy with academics and lacrosse as she completes her senior year at Trine. She was voted by students to be a part of the Homecoming Court for 2016.
"A year from now I hope to see myself in my first year of Physician Assistant graduate school, hopefully down in Florida. Keep your fingers crossed!" she said.