Trine graduate oversees new library branch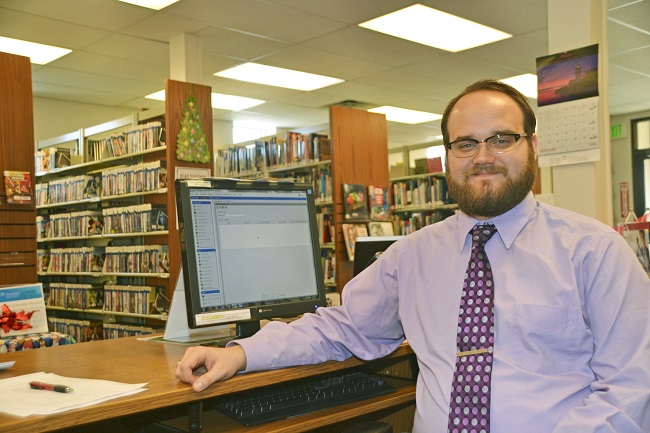 MARKLE — A Trine University graduate is overseeing the new Markle Branch building of the Huntington City-Township Public Library.
Nick Stephan graduated from Trine in 2014 with a Bachelor of Science in Elementary Education. He started working at the Markle Branch in November 2015.
"I was having some trouble finding a school I felt was a good fit, so I started exploring other options to see what I could do that I like or enjoy with the degree I had," he said. "At the same time, the library was looking for someone."
He officially assumed the role of branch manager on Jan. 1, 2016.
Since the branch is only staffed by one person at a time, Stephan's duties include helping patrons, shelving items, creating displays, coordinating reservations of the meeting room and keeping the new materials areas up-to-date. He also discusses circulation development ideas with the library director, tracks day-to-day checkouts and makes recommendations about the branch's hours to the library board.
Stephan has one employee who staffs the branch when he is not working.
Markle had been its own public library but approached the Huntington City-Township Public Library several years ago and asked to become part of its system. One of the terms of the merger was that the Markle Branch would get a new building, Stephan said.
Most of the design work for the new building, which opened May 16, had already been completed by the time Stephan came on board, but he did have some input into where materials were laid out.
The new branch's improvements include more space for seating, a meeting room the community can use, a community history room with yearbooks from local schools and microfilm of the local newspaper, a larger children's room and a larger collection of books. The larger children's room and meeting room have allowed the branch to offer more community programming, Stephan said.
"We just had our first month of programming and I think as we do more the community will get used to it, expect it and look out for it more," he said.
"It's been exciting. Our circulation is double and triple what it used to be on some days, and I don't think we're done growing," he said.