Trine engineering seniors participate in Order of the Engineer ceremony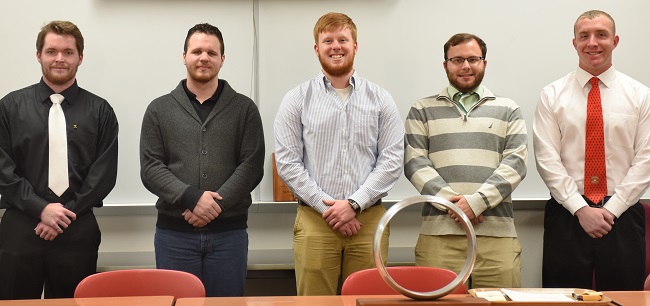 Five seniors in Trine University's Allen School of Engineering & Technology were inducted into the Order of the Engineer during a recent ceremony.
The following students participated in the Dec. 7 ring ceremony in Best Hall:
Kristopher Handshoe of Wawaka, Indiana, a civil engineering major;
Wesley Hocker, of North Ridgeville, Ohio, a mechanical engineering major;
Jonathon Lantz, of Archbold, Ohio, a mechanical engineering major;
David Norris, of Angola, Indiana, a civil engineering major; and
Justin Trigg, of Columbia City, Indiana, a mechanical engineering major.
The ring ceremony is the public induction of candidates into the Order of the Engineer, a fellowship of engineers who are trained in science and technology and dedicated to the practice, teaching or administration of their profession.
During the ceremony, engineering students are invited to accept the Obligation of the Engineer and a stainless steel ring is placed on the smallest finger of the working hand. The obligation is a formal statement of an engineer's responsibilities to the public and to the profession. Both the order and the obligation serve to stimulate public recognition by engineers of two basic principles: that the primary purpose of the engineering profession is the protection of the public health, safety and welfare; and that all members of the engineering profession share a common bond.
Darryl S. Webber, Ph.D., chair of the Wade Department of Mechanical and Aerospace Engineering, asked each new member to come forward when he read their name. Then, each new member placed his/her working hand through the 12-inch diameter opening of a ceremonial stainless steel ring and a ring was placed on the pinky finger by John Wagner, Ph.D., professor of chemical engineering. Tim Tyler, Ph.D., dean of the Allen School of Engineering and Technology, read about the origins of the Order of the Engineer. A. Allen Hersel, Ph.D., vice president of academic affairs, served as Chair of the Order of the Engineer.
Trine University conducted its first ring ceremony in November 1978.