Reiners pledge major gift to MTI Center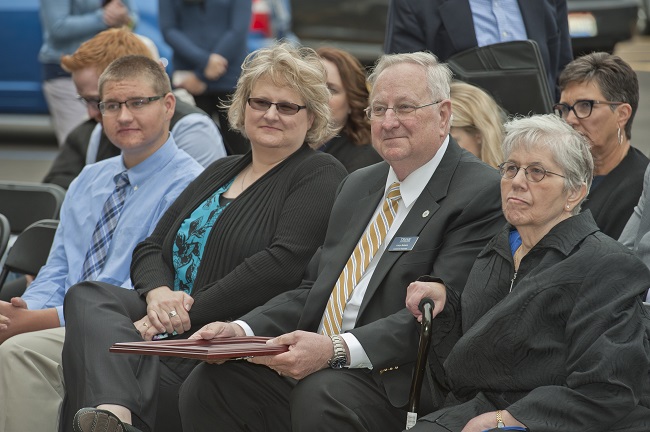 Trine University has received a major gift from Larry and Judy Reiners of Tulsa, Oklahoma, toward the construction of the MTI Center, which will open in January 2018.
The Reiners have pledged $1 million toward the MTI Center.
Larry Reiners earned a Bachelor of Science in civil engineering from Tri-State College, now Trine University, in 1965. He spent 38 years in engineering design, project management, construction management, manufacturing management and corporate management with firms active in the chemical, petrochemical, refining, gas processing and other related processing industries.
"As the beneficiary of a Trine University education, it gives me great pleasure to support Trine as it expands its offerings to its students and to the community," said Larry Reiners. "We look forward to the addition of the MTI Center to Trine's main campus, and the benefits it will offer to generations of Trine students to come."
Larry Reiners joined the Board of Trustees in 2009 and currently chairs the Academic Affairs and Student Services Board Committee and serves on the Executive Committee. The Reiners Department of Civil and Environmental Engineering and the Reiners Residence Hall at Trine University are named in honor of the couple's commitment and financial support.
"There are many testaments on the Trine University campus to the generosity of Larry and Judy Reiners, and we appreciate their continued support as the university expands its programs to better serve our students," said Earl D. Brooks II, Ph.D., Trine University president. "We are excited that construction has begun on the MTI Center and are looking forward to all that this new building with offer to our students and to the community."
The MTI Center, with a cost estimated at $13.3 million, will include three basketball courts, a fitness center, pro shop, bowling alley, esports arena, banquet room and bar, outdoor patio, offices and a training room.
The gifts are part of the Invest in Excellence campaign, which the university expanded from its original $75 million to $125 million last month. More than $83 million — 66 percent of the final goal — has already been raised.