DPT students receive white coats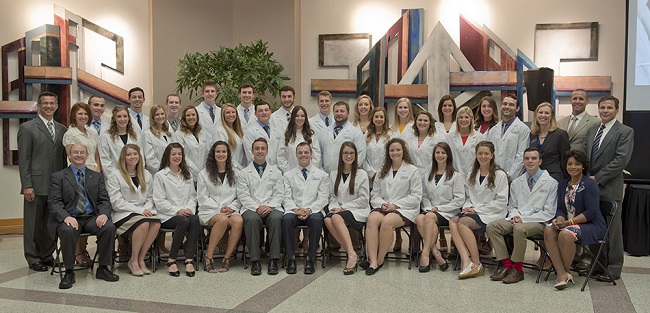 FORT WAYNE — A white coat ceremony Friday morning in Fort Wayne celebrated 32 students in Trine University's incoming class for the Doctor of Physical Therapy (DPT) program.
This is Trine University's third DPT class. During the ceremony, each student is presented with a white coat symbolizing their entry into the physical therapy profession.
Max Baumgartner, Ph.D., PT, OCS, dean of the Rinker-Ross School of Health Sciences, welcomed everyone to the ceremony in Trine's Health Sciences Education Center, 1819 Carew St., Fort Wayne.
Dr. Ron Landin served as guest speaker for the event. Landin, a Fort Wayne native and Bishop Luers High School graduate, earned his undergraduate and medical degrees from Indiana University and later completed his cardiology fellowship at St. Vincent's Hospital in Indianapolis. He is board certified in internal medicine, cardiology, nuclear cardiology and interventional cardiology. He also served as an associate clinical professor at Indiana University.
Landin and his wife, Dr. Linda Landin, returned to Fort Wayne 15 years ago to practice at Fort Wayne Cardiology. He retired in July 2015.
Following a reading on the history of the white coats by Director of Clinical Education Kimberly Beran-Shepler, DPT, OCS, and the administration of the Physical Therapy Oath by assistant professor Althea Watson, PT, MS, NCS, Trine associate professors Jenna Encheff, PT, Ph.D.; Thomas Ruediger, DPT, DSc, OCS; and Ryan Dombkowski, Ph.D., presented the coats.
Students in this year's class are: Kirsten Allman, Jessica Beckwith, Lucian Boar, Sarah Botts, Chelsea Costello, Benjamin England, Karly Fortmeyer, Michael Hankinson, Robert Harrison, Daniel Hinde, Cory Hough, Kari Hough, Samantha Jackson, Christopher Lanning, Katherine Leach, Logan Lucas, Travis Mason, Rachel Miller, Riley Miller, Taylor Miller, Emily Plavchak, Ashley Rager, Emalee Reichenbach, Andrew Rolland, Niki Salzman, Brooke Stano, Margot Stricker, Jillian Surridge, Emily Watkins, Kelsey Wehr, Sarah Wilder and Dustin Winfree.