Trine to add athletic buildings, hockey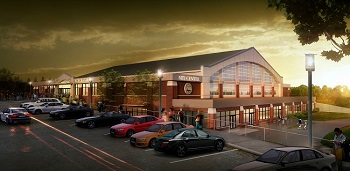 ANGOLA — Trine University will add two new athletic buildings in a $16 million project, allowing the university to add men's and women's hockey teams in 2017, the university announced today.
Trine's women's hockey team will be the only women's intercollegiate team in Indiana, and its men's team will join nine others in the state.
"We are looking forward to the addition of ice hockey to our athletic department. Collegiate hockey will bring a new and exciting form of competition to the Trine University athletics family," said Matt Land, assistant vice president of athletics at Trine.
The university already has received a significant lead gift toward the total cost of the project.
"We are grateful for the generosity of those who continue to support the mission we have of providing a quality, well-rounded education here at Trine," said President Earl D. Brooks II, Ph.D. "These new buildings will not only provide better facilities for our athletic teams and the opportunity to expand our athletic programs, but more opportunities for our students and staff to stay in shape, and recreation for the community as a whole."
Trine University's new 50,600-square-foot, 1,000-seat ice arena will be located on U.S. 20 (Maumee Street) north of the University Center Apartments.
The arena, with an estimated construction cost of $4.5 million, will include an NCAA-compliant ice rink, men's and women's lockers, concessions, a pro shop with wearables, sticks and skates for sale, a VIP lounge and two press boxes. It also will include an area for skate sharpening and rental.
Trine's NCAA DIII men's and women's hockey teams will take to the ice starting in fall 2017. The university has applied for membership in the Northern Collegiate Hockey Association, a conference of regional institutions, and will apply to the American Collegiate Hockey Association DI.
The new arena also will host club and youth hockey programs for the Steuben County YMCA and local school corporations. It also will be open to the public for skating at designated times.
Ground is expected to be broken for the ice arena no later than June 1.
The new 3,000-seat MTI Center, with 74,840 square feet and an estimated construction cost of $11.5 million, will feature three basketball courts, a six-lane bowling alley and a fitness center, which will include machines as well as a free weight area. It also will include concessions, an alumni suite and the Trine University Athletic Hall of Fame.
The new center, which will be located on the site of the Witmer Clubhouse and will integrate that building, will host Trine men's and women's basketball games.
Besides the positive local economic impact from the construction of the buildings, the university estimates the project will add eight to 10 new jobs as the buildings open and eventually result in up to 15 new jobs, and bring 200 new students to campus. Steuben County should see an economic boost as parents, visiting teams and youth hockey programs visit the area for various events.