Trine professor receives Engineering Education award
Maria Gerschutz, Ph.D., chair and assistant professor of biomedical engineering at Trine University, was named 2016 Outstanding Teacher of the Year in the Illinois-Indiana section of the American Society for Engineering Education at the organization's annual conference.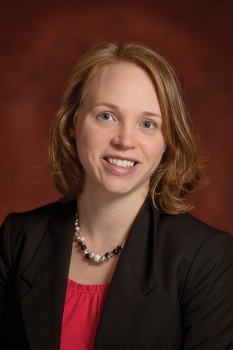 The conference was held Saturday at the Western Illinois University Riverfront Campus in Moline, Illinois.
Gerschutz is the first professor from Trine University to receive the award, which is open to all professors from university engineering programs in the two-state area. Her information will be submitted to the national ASEE headquarters for consideration next year for the national award.
Given by each ASEE section, the award focuses on outstanding classroom performance, recognizes teachers of engineering and engineering technology students and serves as an incentive to make further significant contributions to teaching.
Gerschutz's accomplishments at Trine include revising the biomedical engineering curriculum and transitioning biomedical engineering into its own department. She also serves as faculty advisor for Trine's chapter of the Biomedical Engineering Society and started collaboration efforts between Trine's biomedical engineering department and Cameron Hospital.
Gerschutz had a paper accepted to the 2016 ASEE Annual Conference and recently authored a peer-reviewed journal paper published in the Journal of Prosthetics and Orthotics. She has contributed to numerous other journal articles and has reviewed articles for the ASME Journal of Medical Devices, Journal of Biomechanics and Journal of Rehabilitation Research and Development.
"Maria is an exceptional faculty member at Trine. She is not only a very effective and engaging teacher, as evident by her recent ASEE award as well as a Trine McKetta Teaching award last year, but she is engaged in collaborative research in industry and academia while being a department chair," said Timothy Tyler, Ph.D., dean of the Allen School of Engineering & Technology. "She is also a very positive person who is wonderful to work with. We are truly thankful to have her as part of our engineering faculty team."