Trine graduate presents research at ACS meeting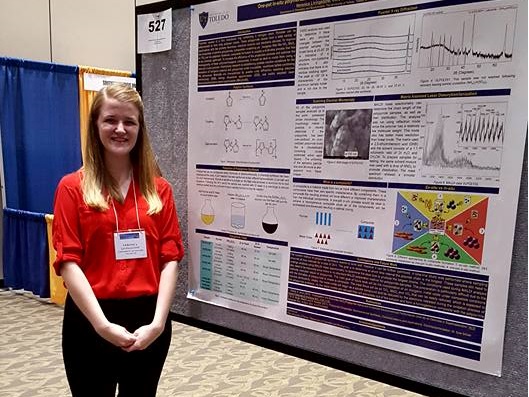 COVINGTON, Ky. — A Trine University graduate recently presented research at the Central Regional Meeting of the American Chemical Society in Covington, Kentucky.
Veronica Livingstone, who graduated from Trine in 2014, is in the graduate program at The University of Toledo working toward her Ph.D. in chemistry. While the conference marked the first time in her graduate career she has presented research, she had previous experience while an undergraduate at Trine.
"When I attended Trine for my undergraduate degree I did research with one of the chemistry professors, Dr. (Anthony) Layson, and ended up presenting a poster at the end of my senior year at Butler University's undergraduate conference," she said. "My previous experience with research at Trine has served as my best preparation for my current research work. The small class sizes, accessible lab equipment and ability to personally interact with my professors also helped advance my knowledge of chemistry."
Livingstone said she will present research at least once a year during the next four years of her Ph.D. program and will publish at least one paper during her time at The University of Toledo.
Livingstone presented on the development of a process to incorporate metal oxides into a polymer to make a composite via a one-pot in-situ method.
"One-pot in-situ basically means that in the reaction every chemical needed to form the polymer and metal oxide is being added at the same time in one container to react concurrently," she said. "The goal of doing this type of reaction is to allow for the composite being formed to have an even distribution of each component, allowing for optimal homogeneity and performance.
"A composite will adapt properties of both its constituents, so adding them together under compatible conditions should improve the functionality of the composite. If an easily tuned process can be developed, the composites can be used in industry and fine-tuned for the properties needed for a specific application. Our lab is currently working on multiple polymers and focusing on transition metal oxides to make these composites."