Trine graduate's internship with Peace Corps leads to stint in Armenia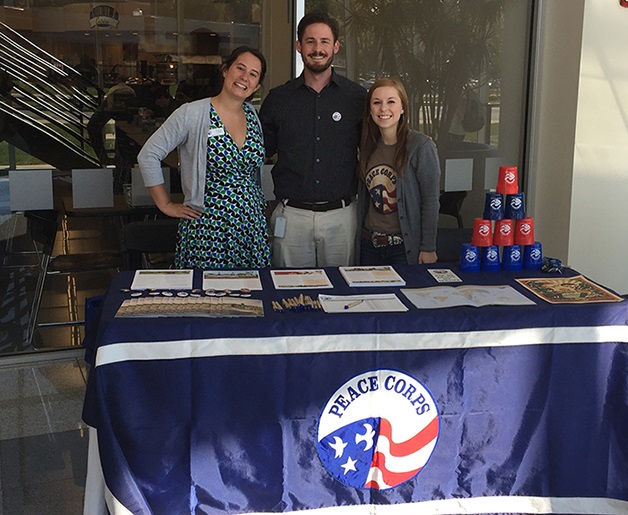 By Annabelle Elder
Communication '17
Amanda Higbee may have just graduated from Trine University in December, but she is wasting no time in pursuing her dream of helping others and honing her leadership skills.
Higbee is joining the Peace Corps and will travel to Armenia on March 18, where she will spend 27 months teaching English to third- through 12th-grade Armenian students.
The Peace Corps was founded by President John F. Kennedy and is operated by the United States government.
Higbee is no stranger to volunteering. She has been involved in a number of organizations, including Future Farmers of America and 4-H, and while at Trine University served as president of the Multicultural Student Organization and worked at the Writing Center. She also served as an international orientation leader and student advocate.
Before Higbee applied to join the Peace Corps, she had already formed connections through an internship with the Peace Corps Campus Ambassador Program. She interned with that program for the 2015-2016 school year and was actively involved in helping bring the Peace Corps' message to Trine University's campus.
She originally found out about the Peace Corps' ambassador program through social media.
"I actually saw the posting on Twitter for the Peace Corps Campus Ambassador Program. I thought it would be a good chance to learn more about Peace Corps," she said. "It turned out to be a really great opportunity! I got to meet several past volunteers and they helped me learn about Peace Corps and the application process.
"During my time as a campus ambassador, I promoted Peace Corps on the campus of Trine University. I worked with the Peace Corps area recruiter to build a relationship with the Employment Resource Center and to get people from Trine interested in Peace Corps. My recruiter and I held some informational talks and hosted a table at International Night."
Completing the internship with the Peace Corps allowed Higbee to forge relationships with those who are active with the Peace Corps and figure out if joining was for her.
"Overall, it was really great to be able to build a relationship with my recruiter, Bryce," she said. "He helped me a lot with doing research on Peace Corps positions and with my application. The experience really solidified my goal to join Peace Corps after graduation.
"I have wanted to join Peace Corps for a very long time. I know several people who served and saw that they had a good experience. For me, Peace Corps offered a good transition from college into the work force and will allow me to travel."
Higbee will be furthering her education while she is teaching.
"I was accepted into a graduate certificate program which will coincide with my service," she said. "Essentially, I will be earning a free graduate certificate in Teaching English as a Foreign Language (TEFL) while I serve."
"My biggest reason for joining Peace Corps is their long history of success," she said. "I am interested in building relationships and creating sustainable projects with disadvantaged groups. Peace Corps has a reputation for producing leaders and producing change worldwide.
"Armenia is in Eastern Europe next to Iran and Turkey and below Georgia. It was previously part of the Soviet Union, but long before that it was the first nation to formally declare Christianity as its official religion. Armenia has a lot of beautiful mountains and very old churches and monasteries.
"During the summer when school is not in session, I will run clubs, apply for grants and work on general community projects. I will also continue to learn Armenian during my service and work to build relationships with members of my community."
Higbee said there will be some adjustments when she arrives in the country.
"One big challenge will be learning the language," she said. "Armenian has a different set of alphabetic characters than English and it is not a simple language to learn. Besides the language, I am sure I will miss my home and my family."
She also stated she is looking forward to experiencing another part of the world.
"I am very excited to learn more about Armenian culture and travel within the beautiful country. And of course, I am anxious to meet the other volunteers and to start teaching," she said.
Higbee added that she is hopeful about her upcoming experience.
"I hope that I can give my community a positive image of Americans and provide them with some insight into American culture," she said. "I also hope that I can create sustainable change within the school and community I will be serving. I hope that my students will look up to me and I hope I can teach them the tools they need to be successful!"
Higbee encourages anyone who wants to keep up with her journey to follow her blog, mynorthernheartblog.wordpress.com, where she will post about her service.