Big Man on Campus raises more than $11,000 to fight breast cancer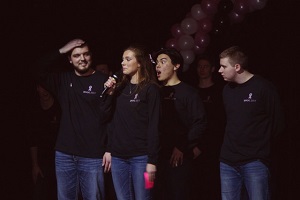 The 17th annual Big Man on Campus (BMOC), sponsored by Trine University's chapter of the Theta Phi Alpha sorority, raised more than $11,000 for the Vera Bradley Foundation for Breast Cancer through a week of activities culminating in a pageant on Friday, Feb. 10.
The total was more than twice the $4,600 raised at last year's event, a record at the time.
"It amazes me how much of an impact my sorority and the Trine community can have when coming together to reach a common goal," said Carly Osinski, president of Theta Phi Alpha and organizer of the event. Osinski, a junior from Noblesville, is majoring in marketing.
Eight male students took part in the competition. Willy Macedo, a junior from Elkhart majoring in exercise science, came in first; Cam Buzzard, a junior exercise science major from Warren, was second; and Braydon Poulson, a junior civil engineering major from Warren, came in third. Adam Miller, a senior elementary education major from Fort Wayne, won Mr. Pink Ribbon, which recognizes the contestant who was determined through a vote of the other contestants to have shown the most enthusiasm and sportsmanship.
Other contestants were Cody Reer, a senior biomedical engineering major from Batesville; Jeff Bowman, a junior management major from Williamsburg, Michigan; O'Shea Owens, a senior from Hobart majoring in criminal justice and psychology; and Victor Riedman, a senior design engineering technology major from Connersville.
Penny Wars, which took place throughout the week, made up 20 percent of each contestant's score. For this event, each contestant decorated a milk jug and tried to get it filled with as much money as possible. Penny Wars raised $2,500 of the total amount.
War Night, held the Wednesday before the pageant, also counted for 20 percent of the score. The contestants, each joined by four friends, participated in a high-heeled obstacle course, dizzy bat race, three-legged race, tug of war and jump rope competition.
Pageant Night made up 60 percent of the contestants' scores and included formal wear, pick-up line, talent, hero and Q&A. Those who attended the pageant heard from Leslie Doig, aunt of a Theta Phi Alpha sister and a breast cancer survivor.
"Her speech reminded us all why we continue to put on this event each year," Osinski said.
Throughout the week Theta Phi Alpha sold BMOC T-shirts. The sorority also received door prizes and monetary donations from Angola-area businesses, and this year an online donation page drew contributions from outside the area.
"Being part of this has been one of the most fulfilling things I have ever done," Osinski said. "It is something way bigger than myself and impacts so many people."