Top prizes awarded for Innovation Challenge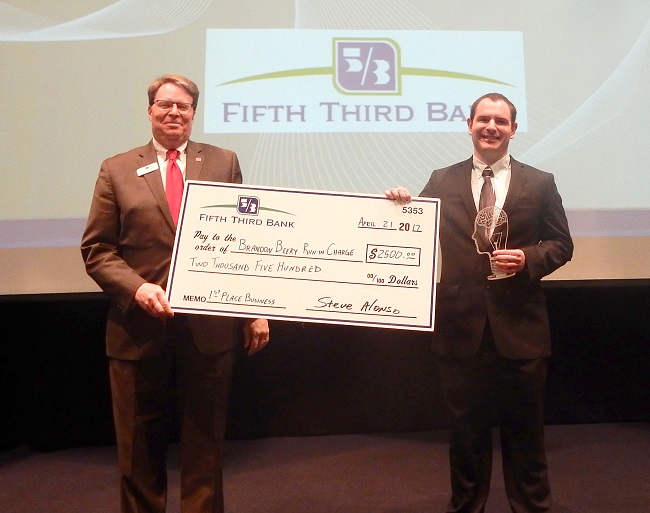 A personal safety device and a business to help runners recover from injury more efficiently won the top prizes at the fourth annual Innovation Challenge presented by Trine University's Innovation One and Fifth Third Bank on April 21.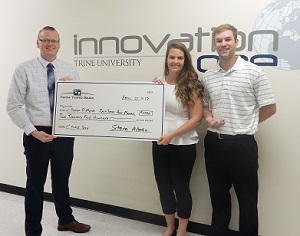 The awards were presented by Paul Burch, vice president for Government & Institutional Relationship Management, Commercial Bank, Fifth Third Bank. Awards and scholarships for the challenge are funded by a $100,000 gift from Fifth Third Bank, Greater Indiana.
First place in the technology division, with a $2,500 prize, was awarded to the Scream-O-Meter by Zach Seder, a senior biomedical engineering major from Saginaw, Michigan, and Anne Mammel, a senior biomedical engineering major from Tecumseh, Michigan. The Scream-O-Meter is a device that can be strapped to backpacks or purses to monitor the surrounding noise and alert authorities when a scream is sensed.
Second place, with a $1,000 prize, was awarded to Security Buddy by Ethan Wierenga and Jonathan Adams, students at Career Academy South Bend. The device helps protect personal information when connected to a public WiFi network.
In third place, earning a $500 prize, was Cleat Strap by Colin Couch, a junior majoring in finance from Batavia, Ohio. Cleat Strap allows users to easily attach a pair of athletic field cleats to almost any type of shoe.
First place in the business division, earning a $2,500 prize, was Run in Charge by Brandon Beery, a senior mathematics major from Mishawaka. The business concept provides personalized, data-driven solutions for runners who struggle with injury.
Winning second place, with a $1,000 prize, was Greekals by Zachary Rilett, a December 2016 graduate from Trine University with a degree in design engineering technology. Greekals is a plan to design, market, manufacture and distribute vinyl decals featuring the Greek letters of fraternities and sororities.
Third place was awarded to Green Man Motorcycles by Anthony Miller, a junior from Elkhart majoring in management. Green Man Motorcycles is a concept for a motorcycle company that allows the end user to design their own motorcycle through a website.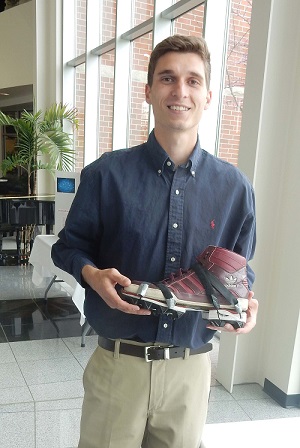 The top campus project award was presented to Internet Homework by John Wagner, Ph.D., professor in the McKetta Department of Chemical and Bioprocess Engineering. Wagner's project is to develop a web-based repository for educators to develop and use effective homework problems in several subjects.
Nathan Hopper, a student at Career Academy South Bend, received the top high school student award for his Mold Extraction Device, an attachment for the end of a vacuum system to allow professionals the ability to remove mold with one tool, as opposed to the current method of using two tools at once.
About Fifth Third Bank
Fifth Third Bancorp is a diversified financial services company headquartered in Cincinnati, Ohio. The Company has $141 billion in assets and operates 1,254 full-service Banking Centers, including 95 Bank Mart® locations, most open seven days a week, inside select grocery stores and 2,639 ATMs in Ohio, Kentucky, Indiana, Michigan, Illinois, Florida, Tennessee, West Virginia, Pennsylvania, Missouri, Georgia and North Carolina. Fifth Third operates four main businesses: Commercial Banking, Branch Banking, Consumer Lending, and Investment Advisors. Fifth Third also has a 18.3% interest in Vantiv Holding, LLC. Fifth Third is among the largest money managers in the Midwest and, as of December 30, 2015, had $297 billion in assets under care, of which it managed $26 billion for individuals, corporations and not-for-profit organizations. Investor information and press releases can be viewed at www.53.com. Fifth Third's common stock is traded on the NASDAQ® Global Select Market under the symbol "FITB." Fifth Third Bank was established in 1858. Member FDIC.
Photos: Top: Paul Burch, left, vice president for Government & Institutional Relationship Management, Commercial Bank, Fifth Third Bank, presents the first-place award in the business division to Brandon Beery during the Innovation Challenge Expo on April 21 at Trine University. Middle: Jason Blume, left, executive director of Trine University's Innovation One, presents the first-place check in the technology division for $2,500 to Anne Mammel and Zach Seder from the Innovation Challenge on April 21. Bottom: Colin Couch holds the Cleat Strap.