Trine alumna honored by Ivy Tech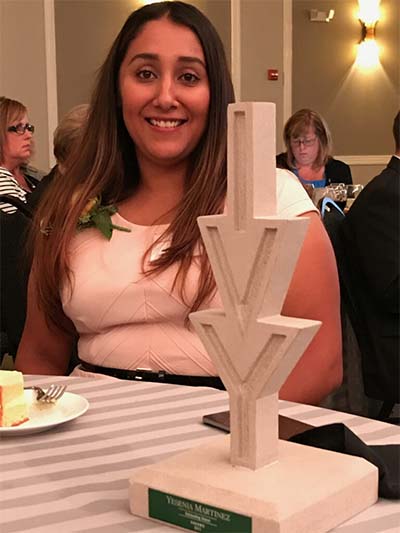 KOKOMO — A graduate from Trine University's Logansport Education Center has been honored with Ivy Tech Community College's Distinguished Alumni Award.
Yesenia Martinez of Logansport graduated from Ivy Tech in 2010 before earning a Bachelor of Science in 2013 and a Master of Science in criminal justice with a technical certificate in forensic psychology in 2014 from Trine University.
Martinez received the award Aug. 2 at a banquet honoring Ivy Tech's 14 regional Alumni Achievement Award winners for 2017 held in conjunction with the Ivy Tech State Board of Trustees meetings in Kokomo. She had been recognized as the winner of the Kokomo Region award during commencement ceremonies in Kokomo in May.
Ivy Tech President Sue Ellspermann announced the honor. "This honoree has achieved both personal and professional achievement," she said, "and continues to live each day observing the Ivy Tech founding principles – a commitment to excellence, integrity, diversity and innovation."
"Yesenia is the 'poster child' for all Ivy Tech stands for as an institution of higher education," said Ivy Tech criminal justice professor Michael Holsapple, her faculty mentor. Martinez, who earned her Associate of Science degree in Criminal Justice from Ivy Tech in 2010, was honored as a person who has demonstrated excellence in accomplishment and character as a woman, a Hispanic woman whose native language is Spanish, a first-generation college graduate, and a wife and working mother of small children.
In recognizing Martinez, College officials said her dedication to helping others and service to the disadvantaged (including Ivy Tech students and former students) and their families, principally in Cass, Miami and Howard counties, has fulfilled for her a purpose-driven professional career. Additionally, Martinez is active in mentoring people in disadvantaged immigrant populations in north-central Indiana and directing them to helpful resources.
Martinez' accomplishments were never "a given." She was a high school dropout from Chicago with one child and another on the way and working at a food-processing plant in Logansport when she decided she wanted more out of life. First, she earned her GED and took an office job; then, after the birth of her third child in 2007, she enrolled at Ivy Tech.
Martinez currently serves as a case manager with Counseling Partners LLC of Lafayette, a contracted provider of services for children and families through the Indiana Department of Child Services. The organization partners with the juvenile justice system, CASA (Court-Appointed Special Advocates), the Department of Child Services, and other groups to improve outcomes for children and families in the communities where it operates. Her responsibilities include supervising visitation for children in the court system and counseling families in their homes or in Counseling Partners' child-oriented facilities. She works with families in Kokomo, Peru and Monticello.
And Martinez isn't done. She is thinking about pursuing an additional graduate degree with the intention of working in Indiana's public education K-12 system as a counselor. In nominating Yesinia for the Distinguished Alumni Award, Holsapple said, "I know no more deserving recipient of this recognition, nor one who will more capably continue to invest in her community at large as a dedicated servant-leader."
She and her husband, Luis Hernandez, have four children – Daniel Martinez, 15; Brianna Martinez, 12; Mia Hernandez, 11; and Alejandro Hernandez, 3.
In congratulating Yesenia and the other regional award winners, Kara Monroe, Ivy Tech vice president of Academic Innovation and Support, said, "You are examples of what can happen when desire and opportunity collide. We have full confidence that each of you will continue to do marvelous things and help us put 'community' back in community college."
Article and photo courtesy of Ivy Tech Community College.