Croy, Henvey, Reiners join Trine Board
Three new members were elected to the Trine University Board of Trustees during its meeting on May 12.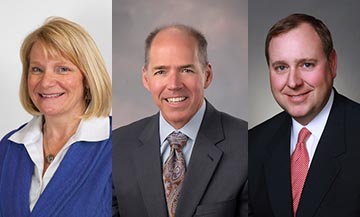 Jeanice Croy is president of Tuthill Corporation in Fort Wayne. The company, which has provided internships for numerous Trine students and jobs for its graduates, produces pumps and meters for the fluid transfer industry, with more than $100 million in annual revenue. She also is co-owner of Fleet Feet Sports in Fort Wayne, a retail business focused on "getting people moving and keeping them moving." She has served as Chair of the Board of the Boys and Girls Club of Fort Wayne since 2015.
Rick Henvey is chief operating officer of Parkview Health in Fort Wayne, which has partnered with the university on its Health Sciences Education Center in Fort Wayne and provided financial support for its Doctor of Physical Therapy program as well as the Parkview/SportOne Softball Field, Thunder Ice Arena and MTI Center. Henvey, who has more than 20 years of healthcare experience in support, operations and service areas, has been with Parkview since 2006 and was named COO in 2014.
Derek S. Reiners of Tulsa, Oklahoma, is senior vice president, chief financial officer and treasurer of ONEOK Inc. and ONEOK Partners L.P., which offers natural gas gathering, processing and pipelines as well as a premier natural gas liquids operation. He has been with the company since 2009.
"Trine University is blessed with exceptional leadership from its Board of Trustees, who have helped guide the university to unprecedented expansion and record enrollment," said Earl D. Brooks II, Ph.D., Trine University president. "We look forward to the expertise the board's newest members will bring, and are grateful for the support and wise counsel they will provide as Trine University continues to develop its academic programs, beautifully transform its campus and impact the lives of its students."
"I welcome my newest colleagues to Trine's Board of Trustees," said Dr. Rick L. James, chair of the Trine University Board of Trustees. "Their knowledge, experiences and insight will add to the diversity of skills and resources we already have on the board as we plot the course for continued growth and excellence at Trine University through the 21st century."
The board also granted trustee emeritus status to member Dr. Lou Holtz during the meeting. The legendary college football coach and ESPN analyst had served on the board since 2011 and is the namesake for the university's Lou Holtz Master of Science in Leadership (MSL) program. He plans to remain active with the university by teaching classes in the MSL program and participating in Trine's Distinguished Speaker Series.
Photo: From left, Jeanice Croy, Rick Henvey and Derek S. Reiners