Trine's Neely honored with first-generation college students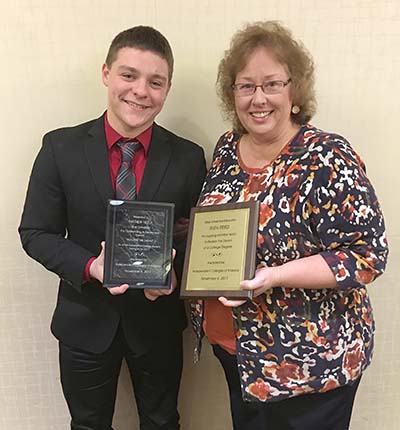 INDIANAPOLIS — Mathew Neely, a Trine University student from Huntington, was among 30 students honored by the Independent Colleges of Indiana (ICI) on Saturday, Nov. 4, at the 28th annual "Realizing the Dream" banquet.
Neely is a sophomore majoring in exercise science.
The event, held at the Sheraton Indianapolis at Keystone Crossing, recognized first-generation students attending ICI campuses who were selected by their colleges for outstanding achievement in their freshman year.
Each honored student received a $2,500 check to help with college costs, and the "most influential" teacher/mentor chosen by each students received a $1,000 professional development grant. Ruth Reed, a teacher at Huntington North High School, was selected by Neely and attended the banquet along with Neely's family.
Heather Kim, assistant vice president and dean of admission, represented Trine University at the event.
Keynote speaker was Valparaiso University alumna Emily Trimble, who manages Tech Point's Indy Women in Tech program, inspiring women and female students of all ages to pursue opportunities in the technology field.
The event is made possible by a grant from Lilly Endowment Inc. to the ICI. One out of every three students on ICI campuses is first-generation. Generous financial aid provided by the campuses themselves, combined with state and federal grants, makes a private college education a possibility for all students in Indiana.
Photos: Top, from left, Emily Trimble, manager, Indy Women in Tech Program, Tech Point, Indianapolis; Mathew Neely; Ruth Reed, Huntington North High School; and Dr. David Wantz, President and CEO, Independent Colleges of Indiana, Inc., at the 28th annual "Realizing the Dream" banquet. Bottom, Mathew Neely stands with Ruth Reed, whom he selected as his most influential teacher.