Trine dedicates health sciences school, expansion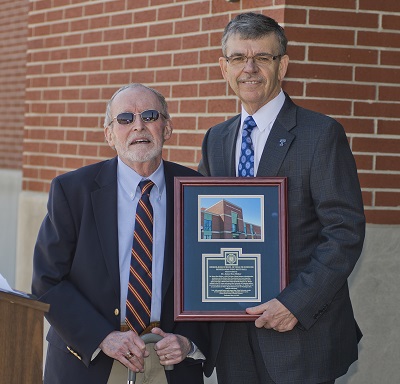 Trine University honored several donors who supported the Rinker-Ross School of Health Sciences and the 26,000-square-foot expansion of Best Hall of Science at a dedication ceremony outside the building Friday, May 12.
The $6.6 million expansion opened in January and added seven laboratories, 12 offices, group study spaces and 140 new parking spaces.
Trine President Earl D. Brooks II, Ph.D., said Best Hall, which houses math and sciences classrooms among others, impacts every Trine student in some way.
"It doesn't matter which school you're in," Brooks said. "All of our students pass through this facility in some form."
The Rinker-Ross School of Health Sciences was named in honor of retired Dr. James Ross Rinker of Binghamton, New York, a 1958 alumnus of the university who designated a $2.5 million estate gift toward the expansion.
"Dr. Rinker's support, his dedication, his generosity helps to ensure we have a first-class learning environment to support all of the students of Trine University," said Brooks.
"I took a brief tour through the laboratories and I was very impressed," said Rinker. "I'm sure that we'll produce some wonderful students and earn a reputation as an outstanding school throughout the United States."
The dedication came two days after the university learned its Doctor of Physical Therapy program, which is part of the Rinker-Ross School of Health Sciences, was accredited by the Commission on Accreditation in Physical Therapy Education (CAPTE).
Drs. Rick L. and Vicki L. James of Auburn also were recognized for their support of the project. Rick James is a 1977 business administration graduate from Trine and chairs the university's board of trustees.
"There's no way to appropriately reach the magnitude of thanks to Rick and Vicki for their leadership for their generosity and for their commitment to the success of Trine University to our students and to this community," said Brooks. "There's not a corner of our campus or a project in recent years that hasn't benefitted or progressed due to their incredible generosity."
The following dedications were made in honor of those who supported the project:
The Keith M. and Cindy L. Turner Mobility Rehabilitation Laboratory. Keith Turner is a 1976 mechanical engineering graduate.
The E. Kenneth Jung Organic Chemistry Laboratory. Jung was a 1941 chemical engineering graduate who passed away in 2014.
The Kara S. Tecco Memorial Microbiology Laboratory. Kara Tecco was the daughter of Tom, a 1972 mechanical engineering graduate, and Suella Tecco.
The William D. and Barbara L. Dubois Sports Performance Laboratory. William Dubois is a 1966 civil engineering graduate.
The Dr. Jerry R. and Mrs. Lydia A. Beehler Suite. Jerry Beehler retired from Tri-State University in 2005 after 37 years as a faculty member, dean and vice president for academic affairs.
The Charlotte Brent Faculty Office. Charlotte Brent is a 1988 chemical engineering graduate.
The H. David Whitesel Faculty Office. Whitesel is a 1960 aerospace engineering graduate.
The W. Brooks Bigelow Classroom. Bigleow was a faculty member for 28 years at Trine. He passed away in 2015.
The Class of 1966 Advanced Chemistry Laboratory, named in honor of the more than 30 members of the Class of 1966 who contributed toward the Best Hall expansion.
The Best Hall addition is part of Trine University's Invest in Excellence campaign, which was expanded last year with the goal of raising $125 million for scholarships and campus improvements as well as the endowment. Launched in 2009, the campaign has raised nearly $88 million, about 70 percent of the final goal.
Photo: Trine University President Earl D. Brooks II, Ph.D., right, presents a plaque to Dr. James Ross Rinker in honor of Rinker's support of the Best Hall expansion and the Rinker-Ross School of Health Sciences. Rinker is a 1958 alumnus of the university. (Photo by Dean Orewiler)