Students join Cameron Woods residents for Spring Fling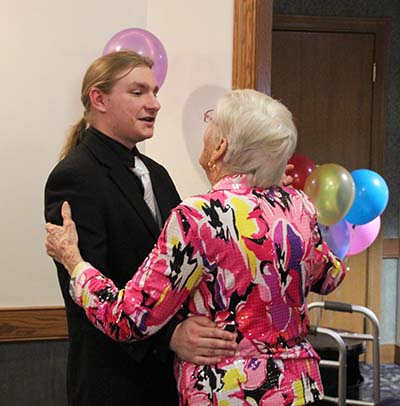 Twenty-one Trine University students from the Tau Kappa Epsilon fraternity and Theta Phi Alpha sorority participated with residents from Cameron Woods Senior Living in the retirement community's annual Spring Fling Dance on Saturday, April 21.
The students served refreshments to residents and danced with them in the Cameron Woods dining room and café, which was transformed with high heels, lights and a prom-like arch for the event.
"It was a pleasure to have the opportunity to be a part of such a wonderful event. It was fun for many who attended," said Ben Moricz, president of TKE. "It took a couple of the minutes for the brothers to get acclimated to their environment to ask various residents to dance. A big reason was many didn't know how to dance to doo-wop and swing music. Thankfully, the residents remembered a little bit from their day to help us out.
"The sisters of Theta Phi Alpha were amazing on their own for their enthusiasm. They were phenomenal! It is nice to see events like these become a reality in our community. I hope this continues to be a tradition for years to come."
More photos are available on SmugMug.