Trine honors 3 with alumni awards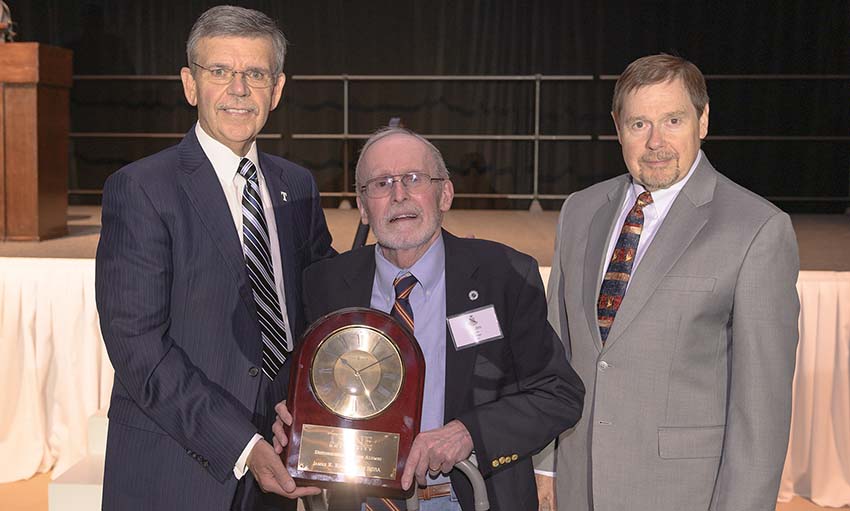 Trine University honored three distinguished graduates with alumni awards during its annual Touchstone and Homecoming Celebration Dinner on Oct. 4.
Dr. James Ross Rinker, a 1958 business administration alumnus, received the Distinguished Service Award. The Distinguished Service Award is given each year to an alumnus or alumna who has performed outstanding service to society in his or her profession, personal achievement or community; and who has manifest interest in Trine University and has supported it by contributions of time, talent and money; by recruitment of students; or by placement of graduates.
After graduating from Tri-State College, Rinker took a commission with the U.S. Army. While in the service, Rinker continued his education, earning his doctorate in psychology in 1966. He proudly served as a clinical psychologist for servicemen at assignments to multiple hospitals before finishing his career at Walter Reed Army Hospital in Bethesda, Maryland.
He moved to Binghamton, New York, in the mid-1990s, where he had a practice in psychology with the local hospitals. A member of the Trine Legacy Society, Rinker has committed to establishing capital equipment endowments through his estate and the Rinker-Ross Memorial Foundation for the benefit of Trine University's pre-med, bio-mechanical engineering, physical therapy and performing arts programs.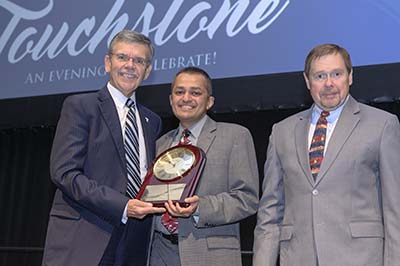 Vipul Shah, a 1996 chemical engineering alumnus, received the Outstanding Achievement Award. The Outstanding Achievement Award is given each year to an alumnus or alumna who has attained a high level of achievement in his or her profession, is well thought of in his or her community, and who upholds the ideals of Trine University.
Shah is a senior vice president, international client advisor, portfolio manager and dedicated equity plan specialist with Morgan Stanley. A cancer survivor, he focuses on comprehensive family wealth management with thoughtful focus on legacy considerations. He is a trusted financial advisor to a select group of business owners, key executives and families, providing customized, inclusive wealth management solutions.
Shah works with international clients and services their unique needs and considerations from a wealth management perspective with a single point of access. With more than 10 years of experience working with international clients, his team has developed a refined understanding and a time-tested process of overcoming the unique investment challenges for clients living outside the U.S. Shah makes his home in Chicago with his wife, Mamta, and daughter, Maya.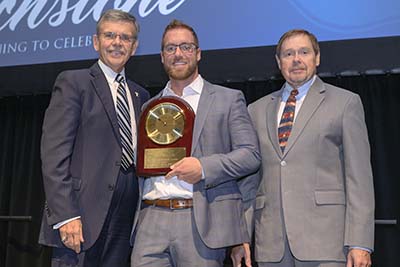 Steve Jbara, 2010 marketing alumnus, was honored with the Outstanding Young Alumni Award. That award is presented to an alumnus or alumna 40 years of age or younger who the Alumni Board and university administration recognizes as an accomplished professional and role model in their chosen career, community activism and active support of Trine University.
Jbara is president and founder of the Grand Rapids Drive, the Detroit Pistons' affiliate NBA G League (formerly NBA Development League) team. The Drive became the first team in NBA G League history to turn a profit in its inaugural season. Jbara has been able to raise metrics for the front office to top five in the league in sponsorship revenue, gate receipts, and #1 in team gear/branded items. Jbara has started and sold two additional companies.
He also serves as the Chief Strategy Officer for WaitTime, a Detroit-based startup that has developed a crowd intelligence software platform for sports venues, and at Air Co, a CO2 technology company based in Brooklyn. He currently sits on the Detroit Sports Commission, the Gilmore Car Museum Board, Double-Down Development Board, the NBA's Team Leadership Committee, The G League's NBA Broadcast Committee, Endeavor Detroit BOD, Leaders for Kids Advisory Committee, and is a board member at Special Olympics of Michigan.
Photos: Top, Dr. James Ross Rinker, center, receives Trine University's Distinguished Service Award from Earl D. Brooks II, Ph.D., university president, left, and Ned Haylett, Alumni Association president. Middle, Vipul Shah, center, receives Trine University's Outstanding Achievement Award from Earl D. Brooks II, Ph.D., university president, left, and Ned Haylett, Alumni Association president. Bottom, Steve Jbara, center, receives Trine University's Outstanding Young Alumni Award from Earl D. Brooks II, Ph.D., university president, left, and Ned Haylett, Alumni Association president. (Photos by Dean Orewiler)