Trine congratulates Rep. Banks on recognition for his support of independent colleges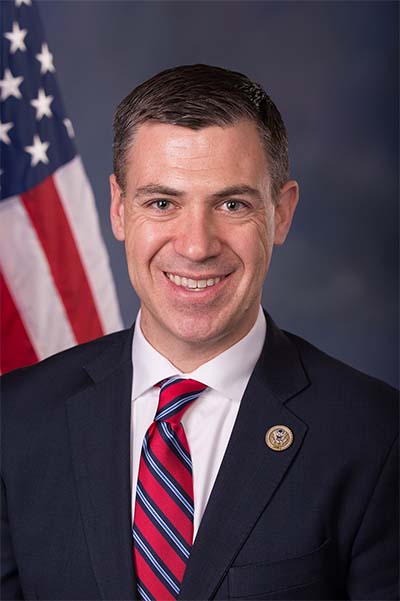 Trine University congratulates U.S. Representative Jim Banks (R) of Indiana's 3rd Congressional District for his recent recognition by the National Association of Independent Colleges and Universities (NAICU).
On Nov. 20, Banks, a member of the Congressional Independent Colleges Caucus (CICC), was recognized for his leadership and support of independent colleges and universities by Barbara K. Mistick, D.M., president of the NAICU.
Banks, who has served in the U.S. House of Representatives since 2017, was presented with a framed replica of his CICC Member Spotlight by Mistick during a meeting in his office on Capitol Hill.
His district encompasses Fort Wayne, Angola, Auburn, Decatur, Huntington, New Haven, Portland, and Warsaw. The district includes six independent colleges and universities, including Trine.
In a statement released by NAICU, Trine University President Earl D. Brooks II, Ph.D., called Banks "a loyal supportive friend to Northeast Indiana and higher education."
"He is always eager to understand our issues related to affordability, financial aid, Pell Grant support, addressing the skills gap, and the Higher Education Reauthorization Act," said Brooks. "He makes it a point to be well informed to represent our views."
The Congressional Independent Colleges Caucus (CICC), launched in February 2017, offers members of Congress an opportunity to both celebrate and advance the diversity of the nation's independent colleges and universities, and learn about the challenges and issues these institutions face.