Benson to lead Trine's Ketner School of Business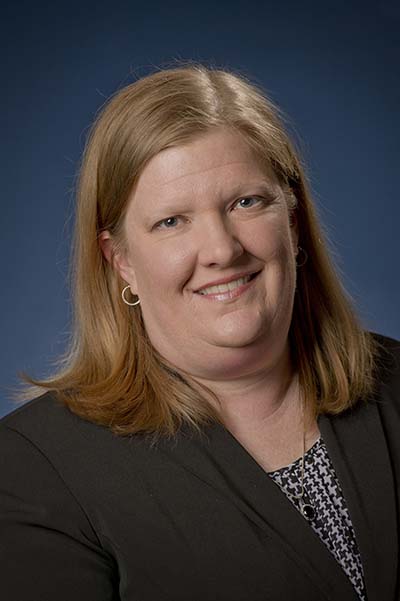 Catherine Benson, chair of Trine University's Ketner School of Business, has been named dean of the school, effective June 1.
"I am extraordinarily honored and humbled to be named to this position," Benson said. "Dean Toby Swick has done amazing things for and with the Ketner School of Business team over the last few years. We have seen unprecedented growth and have expanded our student development programs and offerings.
"I hope to continue KSB's positive trajectory with our tremendous team of faculty, staff and students. Our main focus will continue to be on serving students and making them career-ready."
"Cat's familiarity with the school, dedication to its students and strong leadership skills make her an excellent choice as dean for the Ketner School of Business," said John Shannon, Ph.D., vice president for academic affairs at Trine University. "Trine University's business programs enjoy a legacy of growth and excellence, and we are confident this will continue and expand under Cat's direction."
Swick, who has served as dean since 2016, will transition to chair on June 1.
"Toby will provide Cat with tremendous support in her new role," said Shannon.
Benson has served as director of Trine's golf management program since 2012 and chair for the Ketner School of Business since 2016. In addition to her teaching duties, Benson instituted Tee It Up Trine, a student organization focused on philanthropy, instruction and promotion of golf.
She has earned multiple teaching honors during her tenure. In February, at the Indiana PGA Spring Business Meeting, she was honored with the Horton Smith Award, designed to recognize individual golf professionals for their outstanding and continuing contributions to developing and improving education opportunities for the PGA golf professional. She also was elected secretary for the organization, becoming the first female officer on the Indiana PGA Board.
In 2018, Trine University awarded Benson the Professor Gerald H. Moore Overall Excellence in Teaching Award and the Charles William, Nelle Paris and Mary Ann McKetta Excellence in Teaching Award in Business. She previously received the Mary Ann McKetta Excellence in Teaching Award in Business from the university in 2014.
She also was honored in 2018 for Teaching Excellence in Sports by Greater Fort Wayne Business Weekly.
In addition to her work at Trine, Benson serves on the regional Junior Achievement board and is chair of the Indiana PGA Section Membership Committee. She also supervises the 101 Lakes Junior Golf Tour, which provides instruction, recreation and competitive opportunities for young golfers.
Benson earned her Bachelor of Arts in business administration with a concentration in finance from Transylvania University in Lexington, Kentucky, and her Master of Science in leadership from Trine University. She has earned player development certification from the PGA of America, where she is a Class A member.
Her roles prior to joining Trine University included serving as director of golf for the city of Richmond, Indiana, and head women's golf coach for Bethel College in McKenzie, Tennessee.