Benson honored by Indiana Section PGA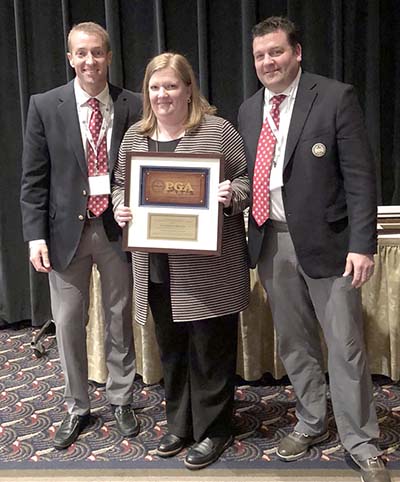 FRANKLIN, Ind. — Catherine Benson, director of golf management at Trine University, was honored with a 2019 Indiana Section PGA Special Award on Monday, Feb. 25.
Benson was presented with the Horton Smith Award, established by the Indiana Section PGA in 1976, at the Indiana PGA Spring Business Meeting. She also was elected secretary for the organization, becoming the first female officer on the Indiana PGA Board.
The Horton Smith Award is designed to recognize individual golf professionals for their outstanding and continuing contributions to developing and improving education opportunities for the PGA golf professional. The guidelines for this award are: contributions to educational programs and seminars in the Indiana Section, contributions and assistance toward the development of articles which benefit and relate to education, contributions to building the image of both the PGA golf Professional and the Association.
Benson was previously honored in 2018 for Teaching Excellence in Sports by Greater Fort Wayne Business Weekly during its annual education awards. She also was awarded the Professor Gerald H. Moore Overall Excellence in Teaching Award and the Charles William, Nelle Paris and Mary Ann McKetta Excellence in Teaching Award in Business in 2018 when Trine University presented its annual McKetta Teaching Awards.
Photo: Catherine Benson, center, director of golf management at Trine University, receives the Horton Smith Award from Bill Pollert, left, Indiana PGA president, and Dan Ross, Indiana PGA vice president.